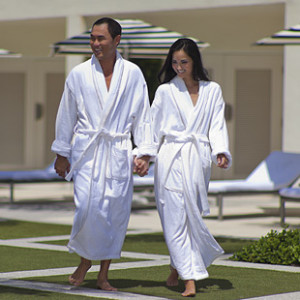 Between the magic of New Years Eve and the romantic affairs of Valentine's Day, 2014 is offering plenty of opportunities for you to show your special someone how much you care. Whether your love has just blossomed, you're celebrating your 5th anniversary, or you're debating whether to retire to warmer climates together, it's never a bad time to let your significant other know how you feel.
Keep Each Other Warm
In many ways, warmth is what defines a successful relationship. Couples provide each other emotional warmth in times of need and physical warmth in chillier weather. It is this warmth that provides the security and comfort that humans crave, that helps us to eventually achieve what the psychologist Maslow described as "self actualization." There are plenty of times, however, when you will not be near your loved one to provide them with this warmth and comfort; what is he or she going to do in your absence? The only rational answer is to provide them with a gift that keeps on giving, something that can match the quality of your love.
Soft and Sweet
Nothing can provide the warmth and comfort of your arms like the quality of Boca Terry products. While that may be a slight exaggeration, there is nothing as important as your significant other, and you should respond as such. The soft robes, slippers, and fabrics of Boca Terry products can provide the smooth and comforting touch that your loved one desires.
Love is in the Air
With Valentine's Day right around the corner, it's time to start thinking about the right present for your lover. Do flowers really show your love? They're beautiful at first, but don't even last a fortnight. Chocolate? They last even shorter than flowers, and are far from the healthiest choice for your partner. Cards? Is your love so superficial that you need someone else to speak your mind for you?Instead, give a gift that is not only thoughtful and romantic, but highly useful and long lived. A bathrobe will last for years, providing constant comfort and pleasure to your loved one. It will also serve as a constant reminder of your love, wrapped around them and providing warmth. Robes are also a romantic gift, in a more sensual manner; few things can provoke excitement like seeing your special someone in nothing but a bathrobe… that you provided, no less.
Surprise, Surprise
It's time to break away from the boring stereotypes and age old archetypes. It's time for you to get creative and give your lover something that will actually strike a chord in their hearts. Here is our list of Boca Terry products that we recommend surprising your loved one with this winter.
•    Basic Kimono
Let's start things off with our basic kimono. Made of terry or velour fabric, this classic robe will have you feeling fresh and ready for love. Just like the garments of ancient Japan, but a little more revealing for your romantic getaway.
•    Kimono Waffles
Nope, this isn't a delicacy at a Japanese breakfast house. Well, it might be, but those wouldn't be as delicious as your lover wearing one of these around the hotel room. Designed to wick moisture away from the body, they are perfect for right after that steamy shower session.
•    Headband
Definitely designed more for the ladies (not that the gentlemen can't enjoy one if they feel so inclined), these headbands are not only fashionable, but will comfortably reign in that messy hair that follows any physical activity – or shower.
•    Classic Shawl Collar
Designed to sink right into after a long day, this shawl has roll up sleeves and a comfy collar to help you remain cozy at all hours. Buy a pair to double the comfort level, and watch your night in front of the fireplace really turn up the heat.
•    Spa Wrap
You don't need to be spending a weekend at the spa to get the most use out of these comfortable garments. Our spa wraps will have you staying sheltered from the elements, while still showing just the right amount of skin to let others appreciate your good looks. These are a must for any couple wanting to spice things up a bit.
•    Velour Stripe
Horizontal stripes make someone look like a bumblebee; vertical stripes make someone look immortal. Our stunning velour stripe features one inch vertical depressions, giving a sense of fashion and class to any who choose to wear it.
•    Open Toe Slipper
Nothing says "I care about you" like getting someone footwear. This may seem counterintuitive, but if you care for someone's feet, the lowest part of their body, then you truly care for every part of them. Even if that wasn't a thing, these slippers are so comfortable, you may just want to get a pair for yourself. The open toe keeps your feet cool while the soft fabric keeps them happy.
•    Micro Chamois
You don't have to speak French to know that Chamois means comfort. Not in the literal sense, per se, but our Micro Chamois robes will turn you into a believer. These robes are detailed in such a manner that no warmth will escape their finite stitching.
•    Organic Kimonos
Happen to have a partner who lives the organic lifestyle? You won't have trouble satisfying his or her needs with our organic robe line. Offering the basic, the shawl, and the waffle style, our organic robes are made with 100% organic cotton, helping to allay any allergies (or consumerist fears) your lover may have.
•    Waffle Blanket
What better way to round off a list of romantic gifts than with an item that brings it all together: the blanket. Nothing says "You're the one for me" like a comfy blanket; it will provide constant security and warmth, and can fit both of you underneath for cuddling or other romantic activities.If any of these articles appeal to you, log on to www.bocaterry.com today and experience for yourself the comfort and warmth of a Boca Terry product.
Share this item with friends