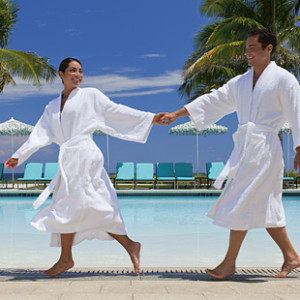 Bathrobes have long been a pivotal sign for ultimate rest, relaxation, warmth, and peace. However, the need for bathrobes tends to go much deeper than simply staying warm during winter—regardless of climate, there are a few places where locals absolutely need a great bathrobe:
1. South Florida
Miami, Fort Lauderdale, or Boca Raton—it doesn't matter. There is no such thing as living in South Florida if you don't own a proper bathrobe. Although South Florida's mild winters don't call for heavy winter clothing such as large warm coats and fuzzy slippers, a robe is still an exceptional accessory to have in your home. Why? Well, during summertime, South Florida experiences the "rainy season." Each day brings strong storms, gray skies, and humidity. What better way to spend each rainy day than curled up in your lightweight, breathable, high quality robe? Grab some popcorn and snuggle up for a family movie night!
Our favorite pick: Shawl Waffles Bathrobe—airy, light, and just right; yet, fashionable enough for South Floridians!
2. Breckenridge, Colorado
Just as lovely as it's well-known neighbors, Vail and Beaver Creek, Breckenridge is a quaint mountain town atop the Rocky Mountain range. Home to skiers, snowboarders, rock climbers, bikers, hikers, and other outdoor enthusiasts, going out on the town here means one thing: you will absolutely need to warm up after a day in the snowy, brisk weather! A robe is the perfect way to relax after a cold day on the slopes.
Our favorite pick: Hooded Bathrobe—similar to a hooded sweatshirt, but longer, warmer, and more absorbent; keep your wet hair from freezing in the frigid outdoors (yes, it does really happen).
3. Paris, France
In such a romantic, beautifully elegant city, there is no other way to spend each evening than in a robe just as illustrious as Paris; think thin, silky, and smooth. Ring in the night with a romantic robe while you watch the sun set behind the tall, sharp lines of the Eiffel tower.
Our favorite pick: Pink Kimono Satin Robe—smooth, sweet, and perfect for a Parisian retreat!
4. New York City, New York
In the city that never sleeps, it is crucial to find time to rest! After a long day of buzzing about town, settle down in a comforting robe—but not just any robe! The cold, snowy winters and hot, humid summers require a top-of-the-line, versatile robe option.
Our favorite pick: Checkered Bathrobe—light enough to keep cool, but fuzzy enough to stay warm!
5. Montego Bay, Jamaica
Whether you are heading in for a honeymoon or you are a local, a bathrobe is a must! Settle down to the sounds of a steel drum band, embrace the beauty of the island, brush up on your Patois, and relax near the calm, soothing waters. There is no better place to lounge and enjoy the scenery in a light, breezy, loose robe. When you are on island time, who cares about prior engagements, mon?
Our favorite pick: Kimono Waffles Bathrobe—simple, absorbent, lightweight, and perfect for keeping everything "irie."
6. Washington, District of Columbia
In this fast-paced, politically charged environment, it can be hard to slow down. A robe is the perfect addition to your nighttime routine to ensure that you have a chance to mellow out. Wrapping up in a robe is the best way to gear up for the next day's work of facing the traffic, speeding cameras, beltway drivers, tourists, and political campaigners.
Our favorite pick: Microfiber Bathrobe—soothing, yet sophisticated enough for the serious professional; great for the D.C. climate. Winter or summer, it's a robe like no other.
7. Vancouver, British Columbia
City meets beach town in this eclectic location! In a colder climate with harsh winters, a robe is not just a nice accessory—it is a necessity! Ward off the winter woes by bundling up near the fireplace wearing a plush, fluffy, warm robe!
Our favorite pick: Fleece Kimono Bathrobe—who cares if fleece-wearing lumberjacks are a Canadian stereotype? Wearing a fleece robe in your home is the best move you'll make all winter.
8. Anchorage, Alaska
The need for a robe in Anchorage is rather self-explanatory—it is freezing here! Most days, locals double (and even triple) up on layers to stay toasty. That's why it is crucial to have a luxury robe to stay warm!
Our favorite pick: Knit Waffle Robe—while our other waffle robes are light, this quilt-like robe is perfect for cold weather; it is long, made from feather-soft modal, and the shawl collar option adds extra warmth and coziness!
9. Hollywood, California
For years, the gentle, plush, and elegant robe has signified class, fame, and prosperity. If you want to make it in Hollywood, don't let anything stop you! Prepare for each glamorous day by getting ready in a pretty, plush bathrobe. Pamper yourself, and get ready for the big screen!
Our favorite pick: Satin Stripe Bathrobe—soft, smooth, and glamorous, this is the right robe for pampering yourself!
10. Las Vegas, Nevada
In the dry heat of Las Vegas, a breathable, light robe is the perfect way to accentuate a bachelor party, a day by the pool, or just a relaxed evening at home!
Our favorite pick: Velour Stripe Bathrobe—this luxurious, absorbent, robe is the perfect addition to your Vegas lifestyle!
Boca Terry: We Fit Your Lifestyle
Let's be honest: everyone deserves comfort! It doesn't matter if you are from a big city, or a small town, a cold climate, or a warm one—investing in an affordable luxury robe is important. Regardless of where you are from, or where your business is, it's time to order a fresh batch of customizable, high quality robes! If you have questions about pricing, or if you are ready to order wholesale bathrobes, contact us, today!
Share this item with friends