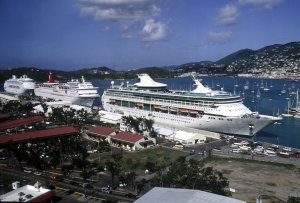 Picking the perfect cruise line for the getaway of a lifetime can be a difficult task. Whether you are a regular cruiser, a first time voyager, or anywhere in between, here are Boca Terry's top tips for choosing the right line:
1. Plan According to the Reason Behind Your Trip
The reason you are embarking on a cruise should help determine which line best suits your vacation. For example, those heading out on a family cruise might like a ship that offers large slides, fun, child oriented dance parties, and cartoon character mascots. On the other hand, the newlyweds that are planning their honeymoon might prefer a more mature, adult-friendly, romantic atmosphere. Not only that, but there are even cruises for the 50+ crowd! Keep all of this in mind while deciding.
If you can't manage to plan an adults-only trip, but still want to experience the freedom of being free from screaming children for a few hours, opt for a cruise line that offers adult-only amenities, such as an adult pool, an adult lounge, or a bar area.
2. Make Sure You Understand What You are Promised
Many cruises create customer-based incentives to enhance the number of returning guests in the future. For example, several cruises offer robes, free of charge, within the cabins of returning visitors and for those with more expensive rooms—don't get left out! Know what you are being offered, as a guest! If this described practice is something that would bother you or make you feel less valued as a patron, you might prefer to book elsewhere.
This goes to show that it is important to ensure you understand what your cruise offers before you book it, and make sure they offer exactly what you are looking for during your special stay!
3. Book Based on the Fun
With so many large ship companies competing, there are more and more innovative ideas for promoting a fun environment! Find what you are looking for and stick with it! Want to do a surf simulator, parasail from the ship, walk the obstacle course, or slide across the boat on a huge zip line? Contrarily, would you prefer to enjoy a romantic restaurant with a bottle of champagne, a couple's massage, and access to romantic comedies after the sun sets behind the sea? Want a mix of both? We guarantee there is a ship that fits the bill.
4. Always Check the Amenities
No one wants to be stuck on a ship that doesn't offer top of the line amenities and comfort! Find the ships that offer in-cabin mini bars, in-room hot tubs, memory foam mattress toppers, and plush, fluffy, white robes—they are the ones that make it obvious that they care about your comfort and happiness while on board.
5. Restaurants and Food Choices
All of the self-proclaimed "foodies" out there should make food choice a top priority when booking a cruise. Pick the one with an all-inclusive food plan, that delicious Thai restaurant, and a homemade breakfast in bed—you won't regret it. Large cruise ships can offer as many as 30 restaurants on board; if this is something that matters to you, plan accordingly!
6. Decide On a Preferred Destination
Have you always dreamed of boarding a beautiful cruise ship, soon to be surrounded by the dark blue waters and bright white icebergs found in chilly, Alaskan waters? Or, would you prefer a warmer, more tropical getaway? Your cruise destination will alter which cruise line best suits your vacation!
Along with deciding destination, guests should consider their susceptibility to motion sickness. Those who fear ruining their fun by feeling queasy should book cruises on sturdy ships that sail calm seas, such as the Caribbean.
7. Consider Price
Prices depend on several factors: how long the trip is, where it is going, and the time of the year. There are several affordable ships out there—but if it's in your budget, splurge a little for the absolute best!
8. Think About How Long You Want to Go
More and more cruises are offering shorter voyages. This allows guests to vacation for less money and less time! On the contrary, there are cruise lines that offer 40-60 day voyages! Make sure you are aware of what you are booking, so you don't get stuck at sea longer than you anticipated.
9. What Kind of Entertainment Do You Want?
Cruise ships offer endless entertainment in many forms. While several modes of entertainment come standard on any ship (like swimming pools), it is important to consider the offerings when it comes to live shows and music. If you are looking for dinner theatres, a live steel drum band, and more specific entertainment, you be sure to book accordingly.
10. Keep Comfort and Relaxation in Mind
All in all, cruises are the perfect time to relax, unwind, and recharge. Guests can sit on the warm, breezy deck as the sound of the ocean laps against the ship's hull. While you should pick a cruise based on amenities and the level of comfort they offer, it is still important prepare in case they don't have exactly what you are looking for. What better way to relax than by bringing a robe, a pair of slippers, and the perfectly, lightweight blanket along? Your comfort is ensured.
Boca Terry: Offering the Best Traveling Tips
Boca Terry has long partnered with some of the biggest names in the cruise industry. We know our cruises! For the perfect vacation, be sure to follow our advice! If you are interested in ordering Boca Terry towels, robes, slippers, spa wraps, or other amazing accessories for your cruise line, contact us for pricing, or to order wholesale today!
Share this item with friends