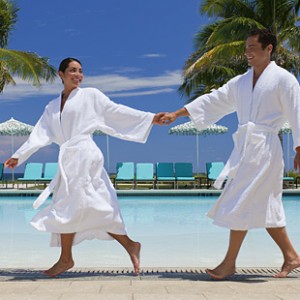 A good robe embodies the essence of your hotel, bed and breakfast, spa, or resort. As the ultimate symbol of comfort, with the right bathrobe you can improve your ratings by giving your guests an example of your very best.
Keeping Your Ratings High
No matter how elegant your establishment may be, if your robes are not up to par, it will affect your ratings. These days, with everyone on the bandwagon to become a reviewer, sites like Trip Advisor are accumulating more and more opinions on where and where not to stay, and more often than not, bathrobes figure into the equation.
Cotton for Style and Function
At Boca Terry, we believe that a well-made cotton robe is one of the best all-around choices when it comes to style and function. Cotton is always the right fabric after a gym workout, the perfect swimsuit cover for poolside or the beach, provides a chill free journey from sauna to shower, is a stylish wrap for receiving room service, and gives year-round comfort no matter what the temperature.
Soft and Durable
Cotton is one of the most widely used fabrics for bathrobes, as it is ideal for absorbing perspiration and for wicking away moisture in general. Soft and durable, it keeps you warm without being bulky, and is a spa's robe of choice when it comes to helping emollients do their work after skin treatments.
Staying Dry and Cozy
The most effective robes for all of the above are Boca Terry 100% cotton waffle robes. With each square functioning like a mini sponge, it is one of our most popular models for keeping you dry, soft, and cozy.
The Essence of the Japanese Aesthetic
Our kimono style waffle robe is a truly elegant choice, creating a slim silhouette that is perfect for both women and men. In a one-size-fits-all or special plus size order, the kimono represents a timeless classicism, which is the essence of the Japanese aesthetic.
Like a Second Skin
The Boca Terry Waffle Kimono is made with a double belt loop, which allows guests to adjust the robe for their own personal waist height. Draping around the body like a second skin, our waffles create a grid-like pattern with large diamonds or seashells. As the perfect lightweight alternative to heavier weight robes such as terrycloth, the robes measure 48" long and come with 17" sleeves to cover the body and arms in exquisite luxury. With optional color piping, you can include a hue that conforms to your establishment's color scheme.
Going Organic
Another extremely popular style is our Organic Lightweight Waffle robe, made of 100% certified organic cotton. Using natural fibers means that no genetically modified seeds have been used in planting, nor have pesticides, fungicides, or herbicides been applied. With frequent crop rotation to ensure the right environment for growth, organic cotton means that all techniques that promote a healthy ecosystem have been used. With this sustainable green ethic and holistic approach, these robes are extremely appealing to our growing desire for a pollutant-free world.
A Healthier and More Conscious Lifestyle
One hundred percent organic is certainly the way to promote a healthier, more conscious lifestyle, with no contaminants to harm the skin or the environment. Completely hypoallergenic, an organic robe is a guarantee that those with allergies, asthma, or a propensity towards skin irritations will be free of worry.
Standards Above and Beyond the Norm
Boca Terry has been considered the premier bathrobe supplier to the hospitality industry for many years. Known for our selection of the best fabrics, impeccable styling, attention to every detail in manufacture and production, exceptional quality control, and true affordability, we are not too humble to say that our standards are above and beyond the norm. We test every piece down to the finest stitch, and it is this type of scrutiny that ensures our commitment to excellence. We know that if your guests have the perfect experience they will want to return to you again and again.
Distribution in Los Angeles
With one of our prime distribution centers located in Los Angeles, we supply the west coast with our factory-direct shipments, ensuring that your hotel, bed and breakfast, spa, or resort will receive orders exactly when you need them. Because we have no middleman, we are able to keep our costs much lower than you would imagine for a high quality luxury item.
Creating a Distinctive Robe for Your Brand
At Boca Terry, our service doesn't only include our classic and on-trend bathrobes. Our design experts are also available to help you customize your order. We can take a plain 100% cotton waffle kimono robe and turn it into something that is absolutely distinctive for your brand. We will work with you on a specially embroidered logo or emblem that helps to identify you, which is particularly important if you have an on-site or on-line boutique. This is also a great way to emphasize your brand if you are doing promotional giveaways.
Personalizing for Special Events
Personalizing your waffle kimono robes is another way to make an impression. We know that many of you host honeymooners, bachelor's parties, and other celebratory events. Why not suggest to your patrons that they order a personalized design that can be placed on a waffle kimono robe so that each guest has something to remember the event by. This is also a perfect way to keep your hotel, bed and breakfast, spa, or resort in mind as they wear their robes at home.
Paying Attention to Details
At Boca Terry we have done a lot of research to determine what features count the most when it comes to clients returning to a particular brand or style. We have found that when you pay attention to the details, your guests feel the difference. Because robes are the most obvious example of "getting away from it all," starting here can impress you're your guests that your establishment believes in only the best.
Contact Us
For more information on our 100% cotton waffle kimono robes, or any other style, as well as our wholesale and distribution center in Los Angeles and elsewhere, please contact us through our online form or by phone at (877) 421-6001.
Share this item with friends