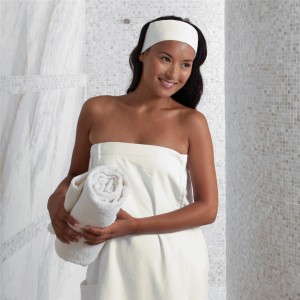 Going organic seems to be the wave of the future for the hotel industry. With guests requesting more eco-conscious ways to enjoy their vacation time, the hospitality business is listening, and we at Boca Terry are noticing a steep increase in sales when it comes to our 100% organic cotton wraps and other similar products.
The Demand For Greener Materials
Now that people are becoming more aware of the hazards of pesticides, fungicides, and other toxins that are added to crops, the demand for a Greener way of handling materials is becoming loud and clear. Because cotton uses the most dangerous chemicals of all for growth and harvest, it has become a target and an emblem for a huge sea change in how we will be managing ourselves as responsible citizens well into the future.
Caring About the Essentials
Pure, organic cotton is hypoallergenic, meaning it causes no allergic reactions of the skin. This means anyone with sensitivity to any type of irritant can wear a 100% spa wrap without having to worry about a break out or even the slightest feeling of discomfort. When you can advertise this to your guests, it brings a peace of mind and a confidence knowing that your establishment cares about these essential details.
Rising to the Occasion With a Greener Ethic
At Boca Terry we have looked at many of the new hotels, as well as the more established ones, noticing that they are much more aware of the Green ethic in every aspect. We see new construction made of more sustainable materials, such as bamboo, which is a very fast growing grass that eliminates the need to use wood from valuable forest areas. We see new kinds of carpeting and paints being used that do not contain offset gasses or poisonous chemicals. And of course, we feel the difference in our own company as clients order our towels and robes made of natural fibers. Whether a newly built hotel or one that is retro-fitted to fulfill the requirements of a more intelligent approach to the environment, owners are rising to the occasion in order to help reduce the carbon footprint.
Staying Ahead of the Curve
Our 100% organic wraps are what many establishments are ordering today as replacements for old stock that lacks the exceptional quality we pride ourselves on. With our own factories located in several places around the world, we make sure that every detail in production and manufacture is handled with the utmost responsibility. From sourcing the cleanest high-quality cotton to our specialized looping processes, we handle all of our materials with the finesse you would expect from a company that has been dedicated to staying ahead of the curve ever since we opened our doors.
Staying Within Your Budget
One of the many benefits of our organic wraps is that they are one-size-fits-all for both men and women. This, along with our already low prices, means that you can replace your old products without going over budget. Cost effective as they are, our wraps look like a million dollars, retaining their plush feel through the countless launderings they must endure, and never looking worse for wear.
Stylish and Comfortable, With the Perfect Fit
Our organic cotton wraps come in a 24" length for men, reaching from the waist to the mid-calf. With a 32" length for women, they are stylish and comfortable, reaching from underneath the arm to above the knee. They are also available for order in plus sizes, and look as good on an ample body as they do on a slim one.
Snug as a Second Skin
Helping your guests feel secure is the most important reason to buy our spa wraps. People become tired of worrying about wrapping a towel around their bodies after a shower or bath, as it often slips or unties. Our wraps are designed to stay beautifully draped around the body until you are ready to take it off. Secured with three snaps for an adjustable fit, we also include a comfortably placed elastic to keep the material as snug as a second skin.
Increasing Your Ratings
Everyone knows by now that the word to describe Boca Terry products is "luxurious." This does not only apply to our aesthetic, but also to how we believe guests should be treated. Your hotel represents comfort and care to those who have chosen it as a part of their destination. No matter what your price level, your guests deserve to have the best, and a well-made product is what can make all the difference in the world. Just read some of the online guest reviews and you will see how important the amenities are when it comes to a good critique. With all of the competition out there due to increased worldwide travel, ordering a Boca Terry product will help you increase your ratings as your guests appreciate your attention to detail.
The Power of Organic Materials
It is impossible to underestimate the power of organic materials in this day and age. As you begin to replace your older fabrics with those that are made with care, potential guests will notice and flock to your door. In the past it was just spas that advertised their commitment to natural products. Now hotels all over the world are noticing the increase in sales after they have switched to a more conscious way of management.
Environmentally Friendly Alternatives
Using new protocols for lighting, flush toilets, recycling, construction, and design, many hotels are fast rising to the fore as they present environmentally friendly alternatives. At Boca Terry we are a strong part of this process, providing our clients with wraps, robes, and other items that they can be proud to offer their eco-conscious guests.
Contact Us Today
For more information on replacing your old wraps with our beautifully styled organic cotton versions, as well as how we can customize them with your perfectly crafted embroidered logo, contact us today by calling (877) 421-6001 or using the contact form.
Share this item with friends