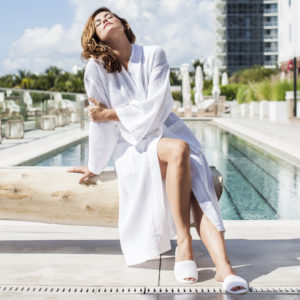 Ways to give your guests the service and luxury they deserve
It might be hard to admit you're reading a piece like this. After all, you probably already have an amazing hotel — and yet, you still feel the need to constantly improve your property and level of service. That's because if there's one thing that's true in the hospitality industry, it's that competition is heavier now than ever before. Demand is growing for increased amenities, and non-traditional competitors are on the rise, making it critical to always bring your best to the table.
So how do you put in the extra effort that will really wow your hotel guests? Here are a few ideas:
1. Improve communication
Your guests are traveling, often from far away. And that means they could be roaming out of their cell phone provider's data service area. Say you're at a 9,000-foot elevation in the middle of the gorgeous Rockies. Sounds like a nice place! But your guests probably don't have a lick of cell service and if they do, they're certainly paying for it. Hello, nasty roaming fees and other limitations. The solution? Ensuring they have access to low-cost (or free) high-speed Wi-Fi is a must if you want to guarantee an enjoyable trip — and if you want to see them back the next time they're in town.
2. Expand your social media presence
By upping your social media presence, it's only natural that you're going to improve your customer service. You can answer questions and allow guests to provide feedback via social platforms instead of slower, traditional options. Doing so allows your customers of the present, past, and future an opportunity to voice their comments and have their most important inquiries answered quickly and efficiently, without ever even leaving their home, guest room, or by picking up the phone.
And if you do social media right – that means being responsive, helpful, and open about any questions or issues raised by commenters – you can impress your followers and wind up developing some of your hotel's strongest promoters online.
3. Improve your amenities
Sure, making sure that everything is in working order at your hotel is important. But sometimes your guests just want something special. So make them feel like the kings and queens that they are: treat them to the most luxurious bathrobes, cozy slippers, and plush bath towels around.
The moment they slip into a fluffy Boca Terry bathrobe they'll feel right at home — though probably a lot more pampered. Whether it's the ultra-soft Micro Chamois or the classy Velour Stripe, we've got just the robe for them. Give your guests the experience of a lifetime and brighten their trip with simple, yet highly-coveted luxury bathrobes and supplies. They'll be booking your hotel again in no time.
Ready to bring your hotel to the next level?
Level up with Boca Terry. We manufacture only the best luxury bathrobes and spa accessories. If you're looking to improve your amenities, you know where to turn.
Contact us today with questions about wholesale pricing or to place an order!
Share this item with friends