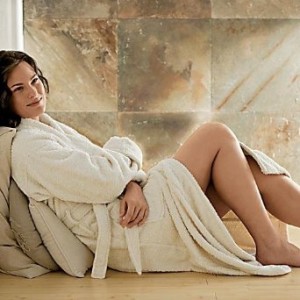 At Boca Terry, we are in the business of supplying some of the top hotels in the world with bathrobes, towels, and other spa accessories. In business since 1996, we have developed some of the most advanced techniques for manufacturing and producing our high quality, luxury products and are proud to share our know-how with both wholesalers and retailers alike. In this article, we would like to address our retail customers, as many of them have asked us what the difference is between a hotel style bathrobe and one that is more of a standard quality. For us there are three main reasons, and here we will discuss them so that you will understand the value of buying the best possible robe for comfort and longevity's sake.
1. Buying the Best Brands Top hotels generally look for the best brands in order to provide guests with the ultimate in luxury. Because bathrobes are true representations of the kind of care an establishment gives its clients, it is important for buyers to focus on those that are top-of-the-line. More and more we are finding that the hotels that carry Boca Terry robes are also providing them in their online or in-house boutiques, fulfilling guests' requests to take home a sample of their excellent hospitality in the form of our luscious products.
Perfecting Every Detail
Because customer rating sites like Trip Advisor have become so essential in helping travelers determine where to stay, hotels have become pointedly aware of how every detail must be perfect in service of maintaining a high ranking. It is interesting to note how many times the quality of robes are mentioned on these rating sites, as they become increasingly more important as representatives of the attention to detail that marks a good hotel.
Giving Yourself What You Deserve
When you use hotel style bathrobes at home, you are providing yourself with the same high quality that is given you when you are on vacation. Pampering yourself with exceptional fabrics and workmanship is a way to give yourself a marvelous gift every time you emerge from a shower or bath. Feeling at ease at home in a beautifully made bathrobe is surely what you deserve, and with robes made by Boca Terry, you will be hard pressed to find a better way to relieve the stresses of the day.
2. Choosing Stylish Bathrobe Models Good hotels will choose stylish bathrobe models to either stay ahead of the fashion trend or to provide a classic look that conforms with a more stately image. A robe is a direct mirror of what a particular hotel represents, and usually buyers will look for a company that supplies a variety of appropriate styles that conform to the various activities offered, such as when a hotel offers spa services, a fitness center, or a pool or beach setting. And of course, hotel bathrobes will always reflect the feel of the guestrooms, with many featuring the best in luxurious terrycloth or Waffle styles that define comfort.
Conforming with Your Personal Taste and Needs
When you buy a hotel style bathrobe, you are giving yourself the chance to choose a robe that conforms to your personal taste and needs. Buying from a respectable hotel supplier means you are getting the best quality, no matter what the style. When you buy a Boca Terry robe, for example, you know that no matter which model you choose, you will be getting an exceptional design. Additionally, our robes are styled to fit any body type, enhancing the silhouette with an impeccably created drape. Whether you are male or female, our robes are made to compliment the body, creating a look that is elegant and timeless.
3. Made to Last Hotel style bathrobes are made to last. Imagine how many launderings they must endure during their lifetime, with the tremendous turnover in guests at a given hotel. At our company, we understand the bottom line and in turn create exceptional bathrobes that will look as good as they did on the day they were bought after countless washings and dryings. When you buy a Boca Terry robe, you are making an excellent investment, even when you are paying far less than most of the competition!
Attentive to the Finest Detail
A good hotel robe goes through a very extensive process to become what it should be. We know because we operate our own manufacturing and production centers where every step in each process is watched over with extreme care. From sourcing cottonseeds to supervising threading and looping, from every stitch and seam to ensuring that the drape and flow of each robe will suit its wearer… we are present and watchful and attentive to the finest detail.
The Ultimate in Quality Control
When you buy a hotel robe from Boca Terry, you know that you are getting a product that has been examined with the proverbial fine tooth comb to assure the ultimate in quality control. And you know that the robe you have chosen has been made fit for royalty, because that is what all of our clients expect and that is what you deserve.
Caring About Your Visitors
Using a fine hotel bathrobe at home shows that you care about yourself and about your family and guests. Having several on hand for visitors is the ultimate in caring for their welfare and feeling of ease, which is the greatest compliment you can give those whom you love.
Contact Us Today
At Boca Terry, we are happy to be able to provide our retail customers with the very same quality we create for all of the top tier hotels we supply. Please visit us online to discover more about our bathrobe line and to order your robes today at www.shop.bocaterry.com.
Share this item with friends