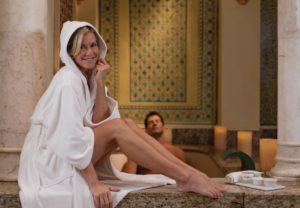 If you're a luxury brand, you'd better deliver the goods
When it comes to luxury and quality, there are a few industries where you really can't skimp, and the hotel business is one of them. Imagine this: you pay a few hundred bucks, expecting the experience of a lifetime during a special night in your life — maybe an anniversary, your wedding, or another important date. The least you expect is that it will be just as luxurious as promised. And that's the thing: You don't want to be that hotel that didn't deliver. If you're advertising luxury, you'd better bring it!
What are some of the things your guests want to see from a high-end hotel? Here are just a few ideas you don't want to miss:
1. Spa services
Ah, the classic spa services: you know, facials, massages, and anything else your guests might want to help really unwind after a big moment in their lives. If your hotel is promoting how luxurious it is, you'll need to be sure your spa is equally as classy.
Hiring talented staff is the first (and most important) step toward an impressive hotel spa. But if you really want to bring it to the next level, invest in luxury, quality spa accessories, like fluffy spa wraps, soft headbands, and plush slippers. Your guests will feel more relaxed than they'd ever imagine, thanks to you.
2. Gourmet food selections
Food is the language of love. It's so much more than sustenance. So, whether it's an in-house restaurant, room service, or a complimentary breakfast, making regionally and internationally-inspired dishes is your moment to really shine.
Make sure it's fresh and full of flavor and keep in touch with the most recent food trends to truly impress your guests and make them want to come back for more.
3. Bathrobes
It might sound simple, but it's a small gesture that can go a long way. Imagine your guests' surprise to find a plush, white, freshly-laundered bathrobe hanging in their room. The epitome of class and comfort, a robe is just the ticket to really ensure they enjoy their stay. Whether it's the organic lightweight waffle bathrobe, the plush and warm hooded bathrobe, or another selection, the options are endless — and they will be appreciated!
Want to make your hotel even more luxurious than before?
Well, getting there can be as simple as making a few small changes. Contact us today with any questions about our highly-rated, affordable luxury bathrobes and spa accessories — or if you're ready to place a wholesale order!
Share this item with friends