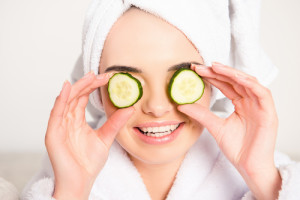 Who said you have to go to the spa to pamper yourself? Recuperating from al the holiday festivities certainly calls for a day of rest. With the following tips, you can get just that straight from the comfort of your home.




Spa Atmosphere
To get started, turn your bathroom into an oasis of coziness.
Dim the lights in your bathroom.
Light some scented candles and/or aroma sticks.
Play soothing yoga music.

Remember to keep electronics away from water. 
Face, Body, Hair, and Nails
Use a soft cleanser with a suitable base to wash your face with.
Head to the shower and start with shampooing and conditioning your hair thoroughly.
Using a loofah, exfoliate your skin with a body scrub.
Rinse off with soap and water.
Dry off and use a hair mask as instructed on its packaging.

Now, it's time for a rejuvenating facial:
For a steam facial, boil some water in a pot and pour into a bowl.
Cover your hair before putting your head over the water for about 5 minutes.
With damp hands, apply a facial mask of your choice on your damp skin (you may spray it with water before adding the mask).
Wait as long as instructed before removing the mask.

Next, set up a warm bubble bath and be sure to enhance it with aromatic oils. You can go all out with rose petals, too. Then, with your hair up, just lie down in the tub for about 20-30 minutes.
When you get out of the tub, pat on body oil while your skin is still wet before drying off and putting on your cozy bathrobe and slippers.
Finally, give yourself a salon-caliber manicure and pedicure. 
Relaxation

Top off your spa day with your favorite book or movie. Have some delectable sweets and snacks nearby as you relax in bed or on your sofa and sip on some nourishing tea.
And voila! Your spa day at home is complete. You'll be ready to take on the rest of your week with lifted spirits.
Share this item with friends