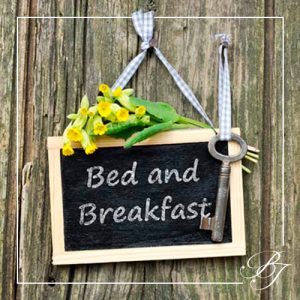 It's no secret that Bed & Breakfasts (or B&Bs) are one of the best options for affordable and comfortable lodging. To excel in the highly competitive lodging industry, B&Bs must deliver consistently outstanding service, enticing booking incentives, and memorable amenities. Here are some simple tips to help improve customer service at your Bed & Breakfast.
Personalized Attention
Guests opt for a Bed & Breakfast as opposed to a brand name hotel because they're looking for a one-of-a-kind experience with lasting memories. Believe it or not, your staff can make this happen without any added cost to your business. Listen to your clients. Learn about their tastes, their budget, and their expectations. Use this feedback to guide you and your staff. Perhaps you can recommend a nice place for dinner on their anniversary or suggest a city tour that fits their budget. Deliver a beautifully decorated breakfast cupcake to their suite to celebrate their birthday. Use every opportunity to personalize your customer interactions and provide a bespoke experience to every guest.
Direct Booking Rewards
Securing direct bookings can be challenging. Online travel agencies often persuade customers with great deals and online reviews. To win over customers and acquire more direct bookings, consider offering discounts for extended stays or implementing a referral-based rewards program. Welcoming small pets is another option, particularly if guests have inquired about bringing along their animal companions. And, of course, special packages for Christmas, New Year's and Valentine's Day can help secure bookings during the holidays.
Comfortable and Cozy Bath Amenities
Packing your favorite bathrobe isn't always an option, so provide your guests with top-quality Boca Terry bathrobes, slippers, and towels. By making them available for purchase, you can offer your guests luxurious souvenirs that will always remind them of their stay.
By instituting these upgrades in your Bed & Breakfast, you will surely elevate your guests' experience and easily boost your reputation. Reviewers will make note of the exceptional service and amenities, and guests will spread the word about this truly next-level B&B.
Share this item with friends