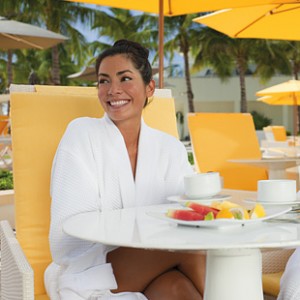 As you know, we love a good bathrobe at Boca Terry—whether crafted from conventional cotton or organic cotton, you can never go wrong with a high quality, well-manufactured robe. And, believe it or not, the fashion industry is starting to take note: as it turns out, your comfy, cozy bathrobe has served to inspire fashionistas around the world. Who can forget the monk and nun-inspired fashion week of a few years back? As it turns out, these robe-inspired fashion finds are back with a vengeance this year:
1. Kimono Dresses
This year, kimono-style dresses are a popular option. These long, flowing, dresses are shaped similarly to a traditional kimono. They are a beautiful take on a traditional garment that you don't want to miss out on.
2. Trench Coats
Trench Coats are clearly a robe-inspired ensemble item. Everything from the shape, length, and the cinched-waist belt scream bathrobe—yet this is a sleek, chic way to stay warm. Whether a traditional trench coat, or Jessica Alba's famous, highly Asian-influenced medium-length sleeve kimono jacket seen in Paris, these pieces of outerwear are in style again this year.
3. Kimono Cardigans
2015 is bringing in kimono cardigans, full swing. You will find them in all of the popular, fast fashion stores this year. You will recognize these cardigans by their light, flowing nature. They are often made from a printed fabric, such as floral print. These cardigans tend to be accompanied by a cotton-thread fringe that serves to celebrate the influence of the 1970s. Yes, that means the 70s are coming back, too. Again.
4. Beach Cover-Ups
Who can ever deny a good beach cover-up? When a towel or robe is not nearby, a good old cover-up is an easy alternative. Styled to look like bathrobes, a cover-up is a cute option to bring to the beach or pool. However, these do not always quite do the trick, as they are infrequently made from the absorbent materials found in terry cloth towels.
Loving these trends? When all else fails, you can always leave the house with a luxury bathrobe. Your neighbors might not even know the difference! (Ok, not really.)
Share this item with friends