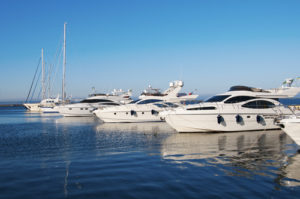 Every yacht features its own unique style, and just like any other medium of luxury, it takes a few attributes for a yacht to be labeled as the epitome of lavishness on water.  The following are some of the elements every extravagant yacht should possess.
A Modish Interior
Setting the tone with the right furnishings and decorative accents is crucial. Each item, upholstery hue, and form of lighting will ultimately blend to initiate a sense of luxury upon entering a yacht. So bringing in an interior designer is usually necessary, as is using pieces like luxurious leather sofas and one-of-a-kind ornamental pillows.
A Promotion of Healthy Living
A luxury yacht should also have a dedicated spa on board, with the feel of one on land. This includes having a massage therapist onboard and the works of a sauna and mud bath. Aroma therapy and spa essentials like slippers, spa accessories, and plush bathrobes should be customized for a more opulent effect. Along with the spa, an original fitness zone should be on deck, including everything from a personal trainer to cardio machines and yoga mats.
Fine Cuisine
The healthy route should be expressed in the menu on the yacht, too. Having a chef on board could also help bring luxury cuisine to the forefront with organic and fusion meal selections. Delicious seafood platters and various specialties made especially for the yacht should be accompanied by a luxe seating area (or several) right by the ocean with more than enough opulent silverware and dishes.
Sunbathing Niceties
Lounge chairs with towel covers and products that make tanning more enjoyable should be readily available. In addition, luxury swimwear and cover-ups make water activities like jet skiing and waterskiing easier with resistant and absorbent fabrics. Top off comfort by keeping the sunburns away with sunscreen and tanning lotions as well as hats. Add an abundance of personalized towels for the finishing touch to a fun day under the sun.
A Spacious Jacuzzi Area
Lastly, a Jacuzzi on deck will do the trick for bringing the right amount of water onto the yacht. It can easily be used during the day or night and should ideally have a basket of towels and slippers in easy reach. Since temperatures can drop while at sea when the sun is gone, having smooth throws/blankets can help to keep warm while watching the sunset and stargazing.
Share this item with friends