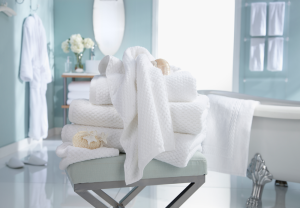 Your gym bag is so much more than something you simply bring to and from your workouts each day. Whether you bring it back inside every day or it lives between the gym and your car for the majority of its life, your gym bag is more than likely going to be packed full of important details.
That's why, when is comes to packing your gym bag, you don't want to miss out on any of the essentials. Ready to make sure your gym bag is in its best shape? Follow our tips for what to pack in your gym bag:
Headphones
We all have smartphones these days. That's great, because the days of dragging around a chunky Walkman or skipping CD player are over. Most smartphones come with the ability to store and play music. And that's good news. You don't even have to lug around your MP3 player anymore!
But, what good is our smartphone at the gym if we forget the much-needed headphones? You don't want to bother the other gym-goers by blasting loud music. That wouldn't be appropriate—and in many gyms, it's not allowed.
Make sure your gym experience is up to par by tossing a spare pair of ear buds in your gym bag. That way, you can keep the motivating tunes going during your entire workout!
Wash Cloth
After a good gym session, you're most likely going to hit the showers for a much-needed cleaning. Perfect plan! But, don't forget to bring a washcloth with you! Washcloths are more effective than cleaning with a bar of soap and/or hands—and they provide gentle exfoliation to the skin. Plus, their size makes them a great addition to your gym bag, as they do not take up too much space. Finally, they are much more environmentally friendly than plastic loofahs, which are made with synthetic materials and are thrown in the trash after just a few months' worth of use!
Towels of all Sizes
The trusty bath towel is a great item to pack in your gym bag. Whether you're showering or just trying to keep try during your workout, bath towels and hand towels are going to be a great addition to your gym-time routine.
Boca Terry offers two collections of bath towels, featuring selections in multiple sizes:
The Sunny Lane Collection is made from 100% combed cotton terry, making it very absorbent and high in quality. It features a dobby border and a beautiful terry finish. These bath towels come in two color options: crisp white or a creamier colored ecru. It is available in the following sizes: washcloth, hand towel, bath mat, bath towel, and the largest size, bath sheet.
The Resort Collection is also made from 100% combed cotton terry, making it equally as absorbent and high in quality. This bath towel collection features an overall check and has a dobby border. It is a beautiful collection to any household—or even gym bag! Plus, it's available in a number of sizes, including: washcloth, hand towel, bath mat, bath towel, and the largest size, bath sheet. This makes it a great choice, as you'll always be able to find the right size for your bag!
Sneakers
Having an extra pair of gym shoes in your bag is a good idea. Whether they're a brand new pair or an old pair that was tucked away in your closet, toss them in your bag before your next workout. You never know when you'll need them! Maybe you want to swing by the gym after work, but forgot a change of shoes. Maybe you'll discover a huge hole in the toe of your shoes in the middle of your next workout. Whatever the reason may be, bringing some extra shoes is a sure way to avoid the gym-time blues.
A Bathrobe or Spa Wrap
Many people hate the dreaded moment: you're in the locker room and your towel slips much lower than you'd like it to—or it just unravels altogether! A bathrobe or spa wrap will help eliminate this problem each time you hit the gym.
A secure way to keep covered up, bathrobes and spa wraps make locker rooms a friendlier place for everyone's eyes.
Pack Your Best Gym Bag with Boca Terry's Bath Accessories
Boca Terry is committed to providing top quality bathrobes and spa accessories, making our products the perfect addition to your gym bag. If you'd like to see what else we have to offer, review our retail site here. If you're interested in ordering large quantities for your gym, contact us for wholesale pricing or to place an order.
Share this item with friends