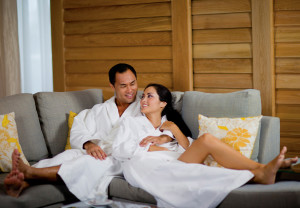 Ah the fall—the time of the year when we enjoy the transition from summer to winter and watch mature trees colorfully shed their leaves. Whether you favor the other seasons or just love this time of year, the common thread remains to be the yearning for comfort and snugness as temperatures drop.
Indoor and outdoor activities call for some bathrobe magic. In states like Florida, October is an amazing month to enjoy cool weather in the mornings and evenings, and swing by the beach during the day. Here are a few reasons why you should include your bathrobe in your bucket list.
Have a Camping Mate 
Whether you have camping on the agenda this season, or you're planning a weekend excursion that entails a fresh hike, you'll need a fuzzy companion to keep you warm—and we don't just mean your pet.  If you live in a humid state, say goodbye to moisture the right way with a high quality bathrobe.
Chances are, you'll probably start getting overwhelmed with the amount of things you have to pack up. From the tent to your sleeping bag, cooking utensils, clothing, and other crucial belongings, having enough space is a major factor to count in.
Check off your camping list with a Boca Terry Classic Shawl Collar bathrobe. Made from 100% combed cotton, you can select from different weights available in regards to the thickness of the bathrobe. The cuffs and sleeves are easy to roll up as you sit by the fire and roast marshmallows.
Had too much water to keep hydrated? Make an easy midnight run to the restroom in your choice of a terry or velour bathrobe. Bathrobes can even protect your skin from undergoing a minor injury sometimes. For instance, you might have missed a tree branch or sat on a log with the risk of getting a splinter. A bathrobe's composition can help you avoid getting a prick.
Hang out by the Water in Style
Are you planning on heading to a beach destination? Or perhaps you're off to vacation on a relaxing dolphin-watching cruise? Wherever you're heading, the best way to set out on a parasailing adventure or on a smoother sail, is by having a bathrobe on hand.
Boca Terry's Microterry bathrobe is an excellent option to store in your beach bag. You can replace your beach towel or keep it as an extra to dry off as you go in and out of the water. These are some of the features that'll make you want to use this bathrobe any time you're by the water (even at your house pool):
The teddy-bear-soft microfiber terry will keep you warm from a fall wind chill.
Double belt loops will help you adjust the belt height so you can move around at your leisure.
Easily store your belongings in the generous pockets.
A hanger loop lets you effortlessly hang-dry or store your bathrobe.
Get Ready for the Holidays
We all know that the fall pretty much opens the doors to the most active holiday season. For many of us, that means welcoming guests from out-of-state to stay over. If you're hosting or visiting family and/or friends, opt for Boca Terry's Kimono Waffle bathrobe, available in 100% cotton or in 67% cotton and 33% poly.
Usher in the holidays with your choice of a regular, hooded or customized bathrobe, which are all great for:
Maintaining privacy whether you're having guests over or you're the guest.
Creating a last-minute Halloween costume. You can't go wrong with your interpretation of Casper.
Preparing Thanksgiving dinner and getting the house clean; or contrarily, preparing to go out for dinner.
Lowering your towel laundry count. Your guests will get more use out of a bathrobe than a larger bath towel—and you won't have as much laundry work.
Getting your holiday gift shopping done early. Bathrobes make for fun and practical gifts your loved ones can use all year long.
For those of us who tend to overindulge in the scrumptious holiday feasts, your bathrobe can be your newfound best friend. Wear it after a grueling workout or when you unwind after you dig into the leftovers.
Kick Back and Relax Effortlessly
Okay, so sitting back and relaxing doesn't really take much effort unless you're wearing the wrong attire to do it. For the perfectionist workaholics, it's especially difficult to take the time to meditate.
You can pick up a book or your favorite magazine and lie down on a stack of leaves under a tree to immerse yourself in your own definition of a fall wonderland—with the help of a Boca Terry bathrobe, of course. Perhaps, you'd like to just snuggle with your children and have a family movie night.
Stay Active
If you live by the woods, go for a nature walk and grab some pinecones to paint. Boca Terry's Microfiber bathrobe with Plush Lining can accompany you on any activity that harvests relaxation. Some entertaining fall activities you can do in your bathrobe include:
Knitting a scarf
Adorning pumpkins
Arts and crafts with leaves
Gardening indoors and outdoors—even make a scarecrow
Working from home
Gazing at the stars
Get the Spa Treatment
Take advantage of those lazy days and set up a spa day for yourself. Whether you want to head to a spa for a revitalizing massage, or you want to make your own spa at home, you can't do so without a fluffy bathrobe. Go for Boca Terry's wide variety of plush bathrobes, including some of our fall favorites:
Micro Chamois bathrobe
Microfiber bathrobe

Enhance your look with closed-toe slippers and a headband or spa wrap for those soothing mud baths.
Make Fall a Pleasure with Boca Terry
If you have to choose a season that defines the word "cozy," it would have to be fall. With Boca Terry, it's easy to make up even more reasons to wear a bathrobe, thanks to the high quality nature of our bathrobes and spa products. Contact us today and we'll be more than happy to help you kick off the fall season the right way.
Share this item with friends