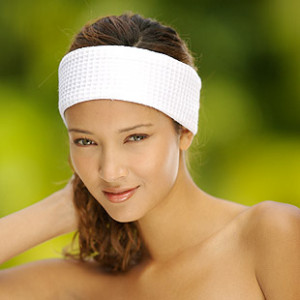 Headbands are an essential at the spa. If you are a frequent spa visitor, you are accustomed to using them and can attest its benefits. Therefore, most spas will offer you a headband with your welcome package, which also includes a robe and slippers. For sanitary reasons, spas often offer disposable headbands to their guests. Are you dissatisfied with the disposable kind? We hear you! Since going to a spa is all about maximizing your comfort, it only makes sense to get your own headband. By constantly providing you comfort, this headband will not only serve you well at all future spa visits, but can be used for many other daily activities.
Keeping Your Hair Clean
Spa employees know the importance of keeping treatment products out of a customer's hair. In addition to being courteous, spas do not want to be responsible for compromising someone's hairstyle or contributing to a breakout near the hairline. Do yourself a favor and buy your own headband! That way, you don't have to hope the spa provides headbands with your favorite fabric. For comfort and ease of use, choose a headband that contains high quality fabric, preferably with a Velcro closure for easy removal.
Cleansing Your Face
When you cleanse your face and overlook using a headband, or worse, neglect pinning your hair back, you run the risk of clogging your pores with the oils from your hair! Furthermore, hair in your face during the cleansing process is bothersome and likely to get soap in your hair. For those of you who struggle to wash your face after a long day of work, using a headband will make that process much easier by doing the work of keeping hair out of the equation.
Applying Makeup
Aside from the obvious benefit of keeping hair out of your face, using a headband while applying makeup ensures that you are able to apply your products evenly. By keeping all of your loose hairs free from your face, you will have a much easier time applying products like foundation, blush, primer, bronzer, or any other moisturizing cream or serum that you incorporate into your daily routine.
Showering
Rather than using a shower cap, which is not likely to stay securely on your head during a shower, opt for a headband. The less time you worry about your hair falling loose while showering, the quicker you'll actually be able to finish the task!
At the Gym
Using a headband at the gym will reduce the frequency of wiping the sweat off of your face, improving the quality of your workout. A moisture absorbing fabric will retain those drops of sweat, and prevent them from streaming down your face during intense runs on the treadmill, or your favorite group exercise class. Hot yoga anyone? Since high quality headbands are made with strong, durable fabric, you can forget about the inconvenience of an ordinary headband slipping down your face from too much sweat. Now, you never have to worry about falling face first on a treadmill!
Fabrics for Headbands
There are a lot of fabrics that can be used for a spa headband, but if comfort and durability are your main priorities, these are three fabrics to consider:
Microfiber
Microfiber is the combination of polyester and nylon fibers that are split multiple times to produce a thinner fabric. In the realm of bath clothing and towels, microfiber has won the hearts of the hospitality industry due to its decontamination, water absorption, fade resistance, lint-free, and ease of cleaning. Microfiber is a superior fabric, to say the least.
Waffle
A fabric that is famous for its shape, texture, and the fact that it looks like one of your favorite breakfast foods, waffle weave got its name for its recessed square pattern. Depending on what it's used for, waffle weave fabric varies in thickness, ranging from very fine to coarse. This fabric is popular for spa headbands because it perfectly complements a waffle bathrobe or towel, is easy to embroider or trim, absorbs water, and is exceptionally soft and comfortable for frequent wear. Velour The name says it all: this fabric feels like velvet! More specifically, it is a slightly stretchy fabric with a high file that feels like it's conditioning your skin. If softness is your main priority in a headband, then you're going to want to choose a specific type of velour:  cotton velour. Encompassing the qualities of cotton and velour, cotton velour is a natural fabric that contains 20% polyester for strength and durability. Like other fabrics, you'll find that all types of velour keep you dry as the pile of the fibers allows for more airflow and space between the skin and the moisture.
Your Next Headband
If you've decided that the ordinary stuff just isn't cutting it anymore, we've got your head covered! Boca Terry specializes in luxurious, comfortable headbands that are designed to support you throughout all your spa visits, as well as your daily beauty and fitness routines. We understand the annoyance of hair getting in the way (or worse, getting dirty!), so if you need assistance, check out Boca Terry's selection today!
Share this item with friends