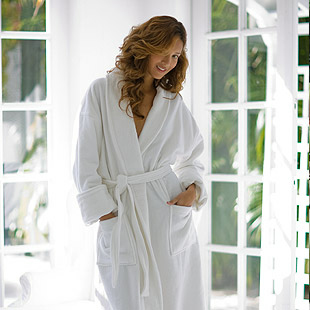 Promotions are a wonderful way to keep you business front and center when it comes to prospective customers who may not be familiar with the essentials of your brand. By presenting one of your bathrobes, you are giving the perfect demonstration of the quality and detail that your hotel, bed and breakfast, or spa is known for.
Inspiring and Increasing Sales Tradeshows and other similar events are perfect vehicles for promotional giveaways. At Boca Terry, we are constantly reminded of how effective they are for inspiring and increasing sales, as everyone loves a good gift. And what could be better than a beautifully styled and crafted robe?
5 Reasons to Promote With a Bathrobe
Here are five reasons why robes are the best promotional items when it comes to helping you reinforce your brand name:
A bathrobe is one of the most likely gifts to be used time and time again after an event. Perhaps worn way into the future, it is the ideal way to remind customers of the quality of your service.
The more value your promotional item has for the client, the more likely he or she is to contact you. With your company name visible as a constant reminder, this is the best way of ensuring repeat business.
Providing a bathrobe with your embroidered logo on the front is an excellent way to create a new relationship. When a person leaves your booth with something so precious in hand, they will always think of you.
A good robe makes one of the strongest impressions when it comes to luxury. Our Boca Terry robes make the best choices for drawing attention to your brand, as they are made with the finest materials along with exceptional styling.
When you choose a sumptuous robe to give as a promotional item, it shows a generosity that is not lost on top tier clients. Your willingness to give away something of high value speaks of the kind of care you must give to all aspects of your business. This is the most attractive way to gain new clients, as well as to keep the loyalty of your tried and true customers.
The Boca Terry Touch
Boca Terry has an extensive range of extraordinary robes that have been featured at some of the top hotels, bed and breakfasts, and spas around the world. Our many years in the business has given us the knowhow when it comes to selecting the best fabrics, hiring top craftspeople, and creating robes that stand up to the many, many washings they must endure in the hospitality industry.
Made to Order
Our custom crafted robes can easily be made to order. Choose a carefully embroidered logo or design, along with the colors that represent your brand, and you will have an exceptional item with which to promote your establishment.
Contact Us
For more information on our products, please contact us today.
Share this item with friends