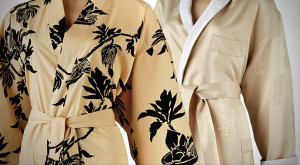 Customized bathrobes are an excellent, unique idea for many reasons. They can show your kindness and care for customers or loved ones, or they can even draw attention to your  business. That's why, when customizing bathrobes, it's easy to fall into the habits of everyone else—but why do that when you can uncover clever, unique ways to customize your  bathrobes?
Customizations are a great way for you and your brand to stand out from the crowd. Here are some of Boca Terry's favorite, most clever customization tips that you can start with,  today:
 1. Brand Slogan
Your brand slogan is a unique phrase that sets you apart from everyone else in your field. Why not use this to customize your bathrobes? You can use your company's motto or slogan on your bathrobes to give wearers an idea of who your brand is, while emphasizing your commitment to that slogan.
Doing so can speak volumes about your brand's ethics, and your overall business model. For example, if customer service is an important aspect of your brand and your slogan relates to that, why not share it? Your customers will be happy to see this commitment to quality (and to them) across your bathrobes. It will remind them each time they wear your robes just how serious you are about taking care of them.
Pretty Patterns
You simply can't go wrong with fun, exciting colors and patterns. But, why opt for plaid or polka dots when everyone else has already done that before? It's time to get creative with your patterns!
A good idea is to create patterns that are unique to you—or that speak about your brand. For example, if you are a ski resort, decorate your bathrobes with big, beautiful snowflakes. If you are located on a tropical island, decorate them with cool palm trees or pineapples. You will be surprised just how exciting this small touch can be for your guests.
Logo
One of the most recognizable things (and sometimes even equivalent to your brand's name) is your logo. Your logo is how guests and prospective customers recognize your brand. And, the more they see your logo, the more familiar they will be with you. That's good news, because brand familiarity is a positive thing for companies.
Buyers are more likely to opt for products or services from a company they are somewhat familiar with! So, go ahead, have your logo embroidered onto your bathrobes—especially the ones in the gift shop! Your guests will remember the great time they had at your resort each time they wear it, and it might even be a conversation starter for their friends.
Personalize for Guests—Especially Guests of Honor
Every once in a while, you will have a guest that turns your establishment into something special. Whether he/she is a returning guest that knows your workers by name, a well-known guest of honor who puts your company on the map, or a first-timer who shows that they really appreciate what you've done, you might want to thank a special guest for supporting your company.
When you find that special gem of a guest, why not offer them a top of the line bathrobe, customized for them, specifically? Add their name to a beautiful bathrobe, and you'll be sure to lock in a returning guest or one that will tell all their friends about you. This is excellent for online ratings, as well.
Unforgettable Wedding Gifts
One of the most popular reasons to customize bathrobes is for an upcoming wedding. Here are some of our tips:
Do you know a special bride and groom that deserve a robe that is personalized with their newly shared last name? You can also customize the robes to say "His" and "Hers" so there is never any question about which partner each robe belongs to. This memento will last for years to come, and it will always remind the couple of their monumental day.
Maybe you are the lucky couple, searching for the perfect gifts for your wedding party. Bridesmaids and groomsmen love receiving a customized robe that is embroidered specifically for them. It will be a simple, sweet reminder of this exciting time you all shared, while also showing each individual member of your party how much you value them.
Mother's Day / Father's Day
With these holidays just around the corner, the demand for fun gift ideas will be on the rise. Rather than spending weeks worrying over what to get them, make the choice well ahead of time.
Need some fun personalization ideas? How about writing their favorite nickname on their brand new, plush bathrobe? Is your parent your hero? Why not write "Super Mom" or "Super Dad" across the back? Sure, it's not exactly a magic cape, but it is a thoughtful and useful gift idea that will last for years to come.
Boca Terry: Making Custom Bathrobes Possible
Not only do we specialize in making affordable luxury bathrobes, but we take it a step further by allowing customization and embroidery. If you are ready to make something unique, if you have questions about wholesale pricing, or to place an order, contact us today!
Share this item with friends