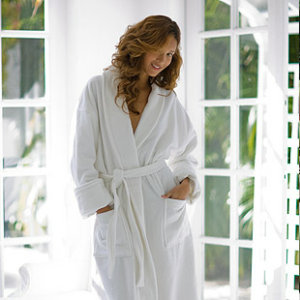 Hospitals, doctor's offices, and emergency rooms are not typically the most comforting place for patients, whether patients are fearful or otherwise uncomfortable. However, there are small gestures that you can make here and there to offer peace, solace, and comfort to patients in this situation.
Among those gestures is the simple act of offering guests a bathrobe; there are several reasons why you should treat your patients to bathrobes, especially during the winter.
Want to know more? Here are the 5 reasons you should start treating your patients to beautiful bathrobes today and everyday:
1. Keep Out the Winter Chill
It's that time of year again: Winter is here, and it has brought along its cold weather. While most hospitals have heat in their buildings, it might not be high enough for many patients to be completely comfortable.
It is no secret that hospital rooms and doctor's offices tend to be on the colder side—and this unfortunately means that patients must deal with uncomfortable cold air along with the other discomforts they face when visiting the doctor or hospital. If you want to make sure your patients are comfortable, you should do your best to keep them cozy. When blankets, sheets, and hospital gowns are not enough, offer a fresh, clean bathrobe for your patients to stay warm!
2. True Patient Care
If you decide to customize the bathrobes for guests, your patients will identify further with your establishment. Each time they see it, they will remember the customer service offered during their stay, along with how caring your staff was during such a trying event.
The great news for you is that customization is easier than ever, and you will be sure that your product comes out exactly as you planned. We offer creative consulting services that influence the design and look of each customized robe. With custom prints, designs, and embroidery, you can ensure that your patients will always have a personalized experience. Plus, offering your visitors a customized bathrobe will show them how special they are to you.
3. They are High Quality
When we say we offer quality, we mean it. All fabric used for Boca Terry items are woven at our factories, totally vertical from yarn purchase through weaving. That means that the terry and satin used for each robe was created specifically for that item. You can't get much more personal than that!
Our years in the manufacturing industry have allowed us to refine our manufacturing down to a science with meticulous fabric research, unique design, sample making and systematic lab testing. This is all done to keep quality as a top priority—and when you feel one of our robes, you will notice the difference immediately.
All technicalities aside, your patients will already know that our bathrobes are high quality. Whether they notice the unrivaled soft fabrics or the unmatchable durability, they will be ecstatic to don a luxury bathrobe during their stay with you.
4. They are Affordable
Bathrobes are an affordable amenity for hospitals to offer—especially those manufactured by Boca Terry. Because we cut out the middleman, we offer our luxury products at an affordable price, including our popular bathrobes!
Our longstanding relationships with fabric suppliers enable Boca Terry to continue to acquire the best quality product and best-executed production in the world, at competitive pricing. How do we do it? This is a result of our company's direct relationships with the factories: something that many of our competitors have not established.
5. You Will Enhance Patient Experience
There is a reason that bathrobes top list after list of the top items that patients should bring in their hospital bag. Watch their faces light up when they find that you already offer them!
If you are going to provide patients with bathrobes, why not offer them as a complimentary gift? They will forever remember the establishment that brightened their day and warmed their soul (and shoulders) with a brand new robe. Get ready for some great Yelp reviews!
Patients, if your hospital does not offer bathrobes, go ahead: pack your favorite one to bring with you. Don't have a one? Our luxury quality bathrobes are incredibly affordable, making it easier than ever to stock your hospital or doctor's office. Best of all, we offer items made from either conventional or organic cotton to meet all of your needs and expectations during your hospital stay or doctor visit.
Boca Terry: Bettering Patient Experience
Are you ready to help elevate your patients' experience? We can help you make all the difference, on robe at a time. If you are interested in ordering Boca Terry, we would love to hear from you. Contact us today for wholesale pricing or to place an order for bathrobes or other accessories!
Share this item with friends