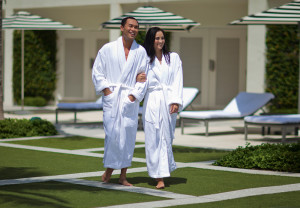 You've put in a lot of time and energy, to say the least, in making your resort the ultimate haven for relaxation. Now it's time to select the bathrobes that'll put the final touch on making all your efforts a success.
Having the right bathrobes available for your visitors will leave a great lasting impression on their stay. In order to keep your guests coming for more of what your resort has to offer, it's an absolute must to pay attention to every detail. Here are some important elements you should look for before placing your bathrobe order.
Do They Go with Your Room Décor? 
The overall aura of your resort's guestrooms is made up of more than just the color of the walls and amount of light that enters the rooms. The functionality of the guestroom designs is completed with an appeal that's pleasing to the eyes, no matter what area of the room your guest wanders in.
That's why it's crucial to mind the small details like whether the bathrobes you choose match the themes of your rooms. For instance, if your hotel has a modern feel, then you'll most likely choose bathrobes with a contemporary design. On the other hand, if your resort boasts a more traditional guise, then you're more likely to opt for a classic bathrobe. 
Do They Have a Versatile Design?
One of the most important features associated with deeming a bathrobe comfortable is whether or not it has a practical design. Bathrobes should not just effortlessly hug the person wearing it with a pile of snugness; they should also have an adjustable composition so that the wearer can flaunt it as they please.
Make sure the bathrobes you're ordering come with accents like roll-up cuffs and large front pockets. These features will allow your guests to not only alter the length of the sleeves to their liking; they can also easily store their personal belongings and keep them in close proximity. A cozy collared bathrobe is also a great option that'll make for a royal touch. 
Are They Durable? 
Due to the high sanitary standards of the hospitality industry, bathrobes must undergo a high number of wash cycles to meet those requisites.  That means it's an absolute must to make sure that your bathrobes are made of the highest quality materials.
Whether you choose cotton terry or velour, or any other material, you should look into the manufacturing process and the average life of the robes. Be sure they are machine-washable and can undergo several rigorous washes. If you choose low-quality bathrobes because their price seems to be a bargain, you might regret it, since they will most likely not last long enough, which will end up costing you more to order new ones.
Can They Be Easily Stored?
Another important aspect to look at is whether or not the bathrobes can easily be put away. Generally, you'll need to have extra bathrobes available to keep in storage in case they are needed.
The bathrobes you order should be foldable, and/or come with a loop that will allow for effortlessly hanging the robe or putting it away in a drawer. This is especially useful for guests to be able to quickly access their bathrobes in their rooms, or even at the spa (if your resort has one). 
Can They Be Used in Several Settings? 
The bathrobes you choose should be fitting for any atmosphere and they should be wearable on a year-round basis. Your resort may have more than one area in which a bathrobe can be worn. Your guests might want to throw on their robes as they're by the water at the private beach, or at the spa after getting their nourishing treatments done. If that's the case, you should choose a highly absorbent robe.
Contrarily, if your resort is located in a colder region, you should purchase bathrobes that provide an abundance of warmth. You can opt for a long hooded bathrobe that can be used during all times of the year. Always pay attention to the fabric that you're getting, since not all bathrobes are created equal or can be worn in the same climates.
Will They Suit Any Body Type? 
You never know what size your next guests might need, so your best bet would be going for a one-size-fits-all option. That's not to say that it would be sufficient to leave out the necessity for a plus size robe. Look for a vendor that has that alternative available, too. The bathrobes you select should come with belt loops that allow for adjusting the belt height to properly fit your customers' different silhouettes.
In addition, your guests might have issues with skin sensitivity or allergies, which can be sparked by inorganic materials. So why not go the eco-friendly route and look into an organic collection, too. You might choose to have an entirely organic assortment available, or perhaps just have some on hand for special requests from your visitors.  
Are They Customizable? 
Last, but certainly not least, what would a resort be without customized robes that can aptly display a brand image. Can your personalize the bathrobes you're looking at? Personalize in the sense of choosing a certain pattern or design.
Perhaps you'd like to add an emblem, your resort's monogram, or any other scheme, so that your guests could correlate their stay with your resort's name. If you're unsure about the design you'll be going for, working with a professional can help you find what best suits you.
Boca Terry's Premium Selection 
At Boca Terry, you can get all of the above and more! Our luxurious line of high quality bathrobes both look and feel like they were made for royalty. We carry a large range of styles, including different fabrics and structures, to suit your preferences.
Whether you're looking for a satin robe or cotton velour shawl collared bathrobe, we can help you find the perfect fit for your guests, with a myriad of customization options. For more information on our assortment of bathrobes and other spa products, contact us today.
Share this item with friends