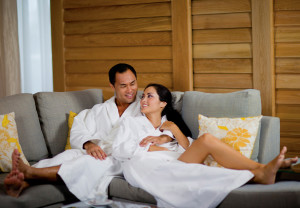 Winter is among the coziest times of the year as most of us spend most of the time indoors snuggled up and clear from the cold weather. Yet, with cold weather come the extra costs of heating and the resulting increase in carbon dioxide emissions.
But what if you could lower those energy bills by creating your own home warming system? This winter, you can actually go the eco-friendly route and turn down your heating. Here are a few ways to do it:
Service Your Heaters
By getting your heaters professionally examined about every two years, you can actually cut your energy costs and save money on repairs. Heaters that are professionally serviced are less likely to put you through any trouble since they'll be functioning more proficiently.
In addition, you should pay attention to cleaning your heaters' filters and make sure that they're dust-free so that they work efficiently. When it's time to get a new one, the more you prolong the process of purchasing a new heater, the more expensive it'll get for you.
Close up Any Cracks Around Your Home
Most of us don't really notice the significance of sealing cracks and gaps to prevent cold air from swaying in. Although these small gaps might seem too minor to have such a major effect on a home's interior, they can actually sum up to the equivalent of having an open window. In turn, the cracks will cause the heat to exit your home.
Sealing your doors and windows with weather stripping can stop cold air from entering and stop warm air from escaping. You can even get creative and use some tools at home to fill the gaps, or just purchase them from a nearby hardware store.
Another area that often goes ignored is the space behind your curtain rods. Discretely place plywood or pelmets over the curtain rods and behind the curtains to stop cold air from bringing in a chill.
Regulate Your Home's Temperature
You should make sure your home is set at a temperature that's comfortable for most people. When testing for that ideal temperature, try wearing a bathrobe while you're at home to have an extra layer on.
Your home should have insulation installed. This will help you cut down half of your energy costs.Moreover, you can close the doors of any rooms that aren't being used or if your heating system permits, just turn it off in the vacant living spaces.
Make Way for Sunlight
One of the best ways to allow heat inside your house and keep it there is by letting natural sunlight beam through your home's windows. Even though many think that the sun's rays can enter a home regardless of whether or not the windows are covered, that's not entirely true.
The UV rays that gleam through the window glass produce heat when those rays beam onto objects. So by simply keeping your window curtains or blinds open in your home's living spaces when they match the sun's location throughout the day, you'll be getting free, natural heat.
Strengthen Your Home Décor
Did you know that if you use heavier curtains to cover your windows, less heat would escape your dwelling?  In fact, windows without any form of covering can cause a home to get about twice as cold during the wintertime.
In addition, you can even move items around your house and place more along your walls or in front of your windows to keep the cold out. Light more candles at home and if you have a chimney, you should safely put it to use whenever you can.
Move Around and Get Cooking
While some gyms probably get less crowded during the winter, exercising can actually warm your body up. So, just pop in a workout or dance video to raise your energy levels and increase your body heat. Meditation has the same warming effect, too.
If you love cooking, then winter is perhaps the best time to do it. Cooking hot meals and sipping on warm beverages can help your body warm up, and not just when they enter your tummy. As you're preparing, your meals, theexpelled heat from the stove or oven can warm up your kitchen and surroundings.
Drinking hot teas and making an assortment of delectable soups will not only keep you warm; it'll also boost your immune system and help keep away unpleasant colds.
Throw on Those Extra Layers
It is pretty much second nature to increase the layer count when you're getting dressed to leave the house during a cold winter. Well, you should also do that while you're still indoors.
Adding extra layers when you're home can help you lower energy bills since you'll be able to turn down the heat. Sometimes, it's much easier to warm yourself upthan it is to raise the heat in your entire home.
Boca Terry's wide selection of snug bathrobes will allow you to easily add that extra layer you need while maintaining maneuverability. You can wear a bathrobe over pretty much any choice of wardrobe, and if you're cozy enough, you can opt out of fuzzy boots to throw on a matching pair of Boca Terry's skid-free closed-toe slippers.
Here are some of our bathrobes that make for a perfect fit for this winter season:
Classic Shawl Collar Bathrobe
Hooded Bathrobe
Knit Waffle Bathrobe
Microfiber with Plush Lining Bathrobe
Microterry Bathrobe
Microtec Bathrobe
Organic Classic Shawl Collar Bathrobe
Keep Warm All Season
Turn your home into a warm sanctuary while keeping a Boca Terry bathrobe near. Whether you're in a lazy state-of-mind and just want to lounge around your house, or you'd like to whip up a full-fledged winter potluck, Boca Terry's large assortment of luxurious bathrobes will keep you warm and comfy.
For more information about our varied collections, call Boca Terry today. We'll be more than happy to help you make this the warmest winter in your home, to date!
Share this item with friends