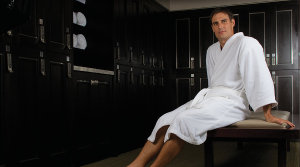 A problem that many hospitals, doctor's offices, and emergency care facilities are facing is  the issue of patient comfort — especially during a long stay. Boca Terry takes a closer look  at this difficulty and offers a few solutions to improve patients' experience in an  establishment.
 A Quick, Closer Look
The problem facing many healthcare facilities is the inability to create a comfortable haven  for patients. Patients often report that the facilities in which they are staying are scary, cold  (literally and figuratively), and disconnected, leading to patient fears and discomforts. Patients who already experience a fear of the doctor are even worse off.
Bettering Patient Stays
That is why we are going out of our way to help improve your patients' stays! Oftentimes, the only thing that a patient wants is to go home, and while this is not always feasible, a hospital's best bet is to make patients feel like they are at home. Follow these tips to make an individual feel a bit more comfortable during their visit to your establishment:
Help Calm Fear During an Ambulance Ride
For a lot of patients, their first introduction to your facility is during a ride to the hospital in an ambulance. While comfort is not typically an EMT's ultimate interest, it can still help benefit patients, by soothing the fears or pain they are experiencing.
1. "Security" Blankets
Although ambulances are designed with one goal in mind (transporting patients in an emergency situation), the best move is to offer as much comfort as possible. By supplying patients with a warm blanket to wrap in, or even a simple robe, EMT's are helping patients and their families to feel calmer during an ambulance ride. In fact, many ambulances are known for offering stuffed animals to scared children; even simply offering a sort of security blanket to an adult patient goes along with the same idea, enhancing their comfort and minimizing their fears.
Enhance the Waiting Room Experience
Typical waiting rooms offer a dull atmosphere and many guests experience anxiety and fear while waiting to be seen. Here are ways to help make the waiting room a friendlier place to visit.
2. Play Music
Several studies show that soothing music is a great way to help patients and their family or friends feel calmer during an intense situation.
Help Patients Feel More Comfortable in the Room
Once patients are in the doctor's office or their own hospital room, comfort should be a top priority for healthcare officials. Something that hospital rooms and doctor's offices tend to lack is a warm, welcoming ambience. Here's how to change that:
3. Warm Lighting
To help maximize patients' comfort, hospitals can install lamps that offer warm, yellow lighting; patients can use this lighting when the doctors or nurses are not there, and it can help patients relax while enjoying a more peaceful experience, overall.
4. A Waffle Blanket
You will hear patient after patient complain that their room is too cold. Well, don't just listen to your patients — do something about it! Don't offer just another paper-thin hospital blanket; instead, give your guests the gift of warmth and care.
That is where Boca Terry's Waffle Blanket comes in! By offering them a lightweight, yet high quality option, patients will have access to an option that provides just the right amount of warmth and weight. Calmer patients are just around the corner once you invest in these!
5. Robes
Rather than forcing patients to slip into a thin, open hospital gown, offer them an affordable, luxury robe! Hospitals can sanitize these robes with non-chlorine bleach between uses, or utilize another preferred sterilization method. Plus, our robes are easily customized or embroidered. Go ahead, add your hospital's logo! Your patients will feel more at home than ever. Opt for the classic Basic Kimono robe; they will love it!
What to do During Procedures
Procedures can be an exceptionally scary time for a patient, which means that it is especially important to pay careful attention to his or her comfort at this time.
6. Play Videos
It is well known that music is an excellent way to help soothe anxiety and nerves. As it turns out, videos may play a large role in patient comfort. A recent study found that showing videos to patients helped to reduce anxiety about a procedure.
7. Offer Slippers
Slippers enable patients to stay warm, happy, and healthy during a procedure! Rather than having freezing toes, they can feel comfortably covered and cozy during a procedure, helping them o ease the anxiety and enabling them to relax. That's one way to make sure they won't get cold feet about having a procedure done! Our signature Closed Toe Slippers are your best bet, here!
Boca Terry: Bettering Your Patients' Stay
Boca Terry is committed to help you exceed at what you do; that is why we care about your patient's comfort. Opt for Boca Terry's affordable luxury options to elevate patient comfort in your facility. If you are interested in Boca Terry products, contact us for pricing or to order wholesale, today!
Share this item with friends