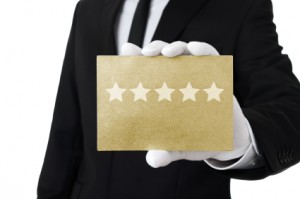 Sometimes we all need to remind ourselves about how and why we got into business and what keeps it going. It's a new year, which means each business has new goals. Heeding industry trends is a great place to start when developing your short and long-term goals for 2014, but there are cornerstones that all business professionals tend to lose sight of from time to time. Placing an emphasis on a fresh start and a renewed sense of energy, here are 8 things to keep in back of your mind as you dive into 2014!
1. Love What You Do!
We can't say this enough. If you don't love what you do, then why are you here? Of course, there are high returns in the hospitality and spa and wellness industries, if done right, but you should be in business for greater reasons besides the bottom line. Many people work in these industries because it brings them fulfillment to help others. The minute work stops becoming fulfilling and is viewed from a monetary standpoint, it's time to reassess what you are doing and why you are here.
2. Staff Selection
At the end of the day, your team will make or break the longevity of your business. Since you spend so much time with these people, you want to choose personnel that share the same passion as you do. If they don't, their indifference will show itself through their work and attitude.
Both industries revolve around customer service, therefore, hotels and spas must be very selective when hiring and retaining employees. It is up to business owners to create an environment where their employees look forward to coming to work, as best as possible.
3. Go the Extra Mile for Customers
This should be a given, but even the best of us can get distracted from time to time. Putting in extra effort to make your customers happy is not only great for creating the optimal hotel or spa experience, but will establish your customers' loyalty and increase the chances of them referring your services to others. For such a positive net effect, this is something spa and hotel owners cannot afford to overlook.
4. Handle Problems Tactfully
The problems faced by a hotel or spa are not necessarily extraordinary, but do encompass complex factors due to the nature of the business. Like all business owners, hotel and spa owners always have to be aware of their operational and financial procedures in order to ensure effectiveness and a positive bottom line.
It's easier said than done to avoid stress while running a business, but you can do yourself a favor by sufficiently structuring and planning each venture that you take on or work to optimize. Rather than merely focusing on the results, your structure and planning must take into account the challenges that may be presented along the way.
5. Remembering Your Vision
Crisis management skills are essential for any business, but doing damage control too often can create fear among employees, which can negatively impact your internal work environment. Regardless of whether you employ a small or large team, this negativity has the ability to change a company's attitude towards work, making it important for business owners to boost employee moral by reminding everyone of the vision of the company. Always let your overarching goals shine through the work you do each and everyday.
6. Speak Positively
In a business where customer service is the main priority, hotel and spa owners and employees alike should be accustomed to listening and validating customer reactions through positive language. Think about the effect of being attentive and responding in a positive manner has on your guests, and apply that approach to the way you view your business. In sum, having a positive outlook usually brings positive results.
7. Quality Comes First
Since running a hotel or spa is all about providing a luxurious experience for guests, quality must always be at the forefront of everything you do. Of course, this sounds like a no brainer, but it's surprising to see how some businesses forget that the essence of quality must be found in every corner of a business – through its products, services, design, or education of staff or guests. Improve the quality of your business by being cognizant of the evolving standards in both industries, considering their interconnectedness, and employ the ones that make the most sense for your model.
8. Maintain Relationships
What would the hospitality and spa and wellness industries be without maintaining relationships? Along with fostering positive relationships with your customers as a means to increase client retention, relationships should also be maintained with industry partners and employees.
Set the stage by attempting to get your know your customers on a face-by-face basis, and leave the door open for communication with previous and current business partners, as well as former and current employees. If resources and time allow for it, consider developing a monthly newsletter to keep the aforesaid people informed of new initiatives and the overall direction of your business. Whatever approach you decide to go with, make sure you are consistent!
It's Our Specialty!
Although we supply our products to a variety of industries, our expertise lies in hospitality and spa and wellness. Given our close ties with numerous hotel and spa business owners, we are attuned to what it takes to make such businesses flourish. For more information on our portfolio of clients and their applicable case studies, visit www.bocaterry.com/clients/industries.
Share this item with friends