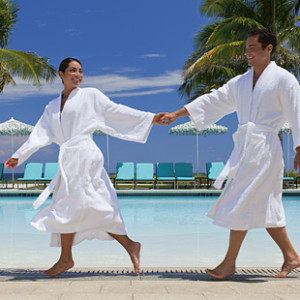 Product promotions can go a long way for your business, your reputation, and your overall customer satisfaction. Here are the reasons why you should use product promotions, and the top ways to do it!
Why Use Promo Products
You might find yourself wondering why you should use promotional products for your company. There are several reasons why promotional products are useful to your brand, but here are just a few of the ways:
1. Grab Attention
Want to stand out from the crowd? Promotional products gain attention for your brand in three ways:
It helps get your logo out into public view.
Once your logo is out there, your target audience will begin to recognize it and may become interested.
Once customers find out about your promotional products, they will be likely to share your information with a friend—even if they are just telling that friend how to find your promo gifts.
Whether you are at industry events, or in your own office, you can pass out promo products. Once you have attention, clients, or fans, promotional products can further help your company with branding. Want to be recognized? Start customizing items!
2. Advertise & Market
By offering promotional products, you have the chance to market your brand further. According to PPAI, "Promotional products have a high reach and potential for top-of-mind recall and are an excellent medium to increase and sustain brand awareness" (PPAI). Not only can you gain, but also sustain brand awareness, bringing more attention and recognition to your name.
3. Show Your Customers and Clients You Care
Offer your clients and customers the simple gift of a promo product. They will be thrilled to receive a high quality, useful gift, and it will make them feel extra special. Go ahead, embroider your logo onto a soft, absorbent Basic Kimono Bathrobe and offer it to your loyal fans.
4. Represent Your Company with Quality
Using only a high quality promotional product, you have the ability to represent your brand at its best. Whether you own a spa, a hotel, a senior living home, or a hospital, potential clients who receive your promotional products will automatically associate your brand with quality.
Our Quality is Never Questionable
When you make the commitment to purchase Boca Terry products, you are making a commitment to quality, while making a statement about your brand. How do you know about the quality of a product? Not only will you feel the quality when your shipment arrives, but you even have the chance before it arrives. If you need to know about the quality of a product, simply ask for a sample so you will know exactly what to expect.
Put your faith in a brand that allows you to know extensively about the manufacturing process, so there is no question from start to finish. That is why Boca Terry transparently provides the manufacturing process on our own website.
Our customers can see that we begin the manufacturing process right in our factories, and we have refined our manufacturing process down to a science. We are meticulous with our fabric research for quality, unique design for innovation, sample making and systematic lab testing.
5.  It's Affordable
Boca Terry's top quality items are manufactured to meet and exceed your expectations—along with those who you are offering products to. You will be more than amazed at the quality of the items you receive at the price you purchase them for. Why? Because Boca Terry products are luxury quality, yet we are committed to affordability.
Our longstanding business relationship with our fabric suppliers enables us to continue to acquire the best quality product and best-executed production at truly competitive pricing. Trust us: you will feel the difference on your skin, and in your wallet. That means that you don't have to be shy when it comes to ordering customized promotional products, as we are committed to making the process as affordable as possible.
6. You Can Customize to Best Represent You
Whether you wish to customize your bathrobes, towels, or slippers with a unique pattern, or you opt to have your logo embroidered onto these items, customization is always easy with Boca Terry. We will work with you throughout the process to ensure that your customized items are exactly what you were hoping for.
What types of customization do we offer?
 Customized Patterns
Jacquard
How to Use Promotional Products:
If you need some ideas about the best ways to use promotional products, we have a few options for you:
1. Giveaways at Events
You can use promotional products as a giveaway at events, conferences, trade shows—wherever you are that potential new customers and clients may be, or where you can meet business partners.
2. Giveaways on Campus
Your customers are already loyal enough to stay at your establishment or use your services. That is why you should give back to them by offering a customized promotional product. They will always remember the time they spent with your establishment, but now it will be solidified in a great new product.
3. Online Giveaways
Give your Facebook and Twitter fans something to talk about. Offering a contest where they can enter to win a bathrobe, pair of slippers, or towels with your logo, will be fun for your fans.
Boca Terry: Best Promo Products for Branding
Now that you understand the numerous ways in which you can benefits from promo products, it's time to get started. Get started with Boca Terry! Contact us with questions about pricing, for help customizing your promo products, or to place a wholesale order today!
Share this item with friends