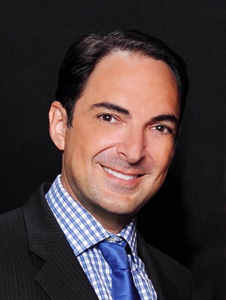 We just finished shooting our latest Boca Terry catalog in sunny Miami and could not be more pleased with how it turned out. Boca Terry had the pleasure to work with the kind and talented president of 2Tu Creative, Inc., Aaron Tutunick. We sat down with Aaron to learn more about what drives his creativity and what he considers to be the secret to his success.
Tell us about yourself. Where did you grow up? What sparked your interest in studying Graphic Design?
I was born in Oak Park, Michigan and moved to South Florida at the age of 7. For as long as I can remember, I have always loved to draw and paint. I was the kid in middle school who designed and illustrated the chalkboards for the teachers. My high school art teacher convinced me to study graphic arts in college, and to keep Fine Art as a hobby, so I wouldn't be a "starving artist."  I did end up graduating college with a Bachelor's of Fine Arts with a focus on Graphic Arts.
I have been an art director for over 25 years, fulfilling my passion of helping drive brand excellence through impeccable design.
As an artist, my strength consists of the combination of creativity while integrating the client's specific sales, marketing, and budgetary goals. Through this, I seamlessly work directly with both the brand team and the client to consistently execute great creative products across many different industries.
Living in busy South Florida, how do you manage to balance the responsibilities of work and family life?
I have been married for 25 years. We have two children who are both in college. One is a grad school student at Florida Gulf Coast University and the other, a sophomore at the University of Miami. One of the first things you must learn in Graphic Arts is time management. Juggling multiple clients' projects and deadlines has taught me how to delegate my tight time schedule in all aspects of my life.
How was your company, 2TU Creative, Inc. established?
Approximately eight years ago, the agency I worked for closed for business. This was the catalyst I needed to start my own business. I reached out to the former designers, printers, and sales people I had befriended throughout the years, and proposed we work together. 2TU Creative, Inc. was born, and it was successful right from the beginning!
What do you relish most about your career?
In my field, I have the opportunity to work with various types of businesses and with different projects ranging from branding and marketing to packaging design and collateral material. I love that each project is something new and allows me to constantly push my creative skills.
Which tools do you find most necessary, and quite indispensible, when executing a new project? 
Learning about the client and the client's needs is extremely important before tackling any project. Researching their competitors is also important. This gives me the opportunity to figure out how my client can stand out successfully above the rest.
You've worked with a diverse selection of industries from PepsiCo to Joe DiMaggio Children's Hospital, and recently, Boca Terry. Is there any particular industry you'd like to add to your list of projects?
I love the projects that allow me to think out of the box. I don't have a specific industry that I want to add to my list of projects. New industries provide an opportunity to learn something new, and that is always desirable.
It goes without saying that it takes a high level of creativity to devise different project designs. What inspires you most when initiating a new concept? What inspired you when putting together Boca Terry's new catalog, in particular?
Being aware of what's happening in the design industry is crucial for inspiration and creativity. I often create mood boards before starting a design. A mood board can consist of images, fonts, words, and/or color swatches. It's a way to cluster a bunch of ideas into one place for inspiration.
Working with the client is vital for any project, but when the client and I are completing each other's sentences, creativity tends to form automatically. That was definitely the case with Boca Terry. We seemed to be on the same page from the start. They were open to my ideas and able to express what they wanted as the final product. Together, we created a beautiful and successful brochure.
What was it like being on set of Boca Terry's latest catalog photo shoot? What did you enjoy most about being a part of it?
The photo shoot lasted 3 days at a beautiful resort hotel in South Beach. I very much enjoyed working with the creative team, including the photographer, stylist, make-up artist and models. We were lucky enough to have beautiful weather, for the most part, and I felt that the location showcased the client's products well. It was an absolute pleasure having Laura and Jennifer from Boca Terry at the shoot providing valuable input.
Alongside the exciting world of graphic designing, do you have any hobbies or special interests?
I still love painting and try to do so as often as I can. I admit I'm addicted to The Walking Dead, Orange is the New Black, and all things Science Fiction. But spending time with my family is my favorite thing to do.
Thanksgiving is right around the corner! Do you follow any special Thanksgiving traditions with your family?
We always host Thanksgiving at my home with lots of friends and relatives. For the past couple of years, we play "Thanksgiving Bingo," which seems to be a hit! Every day is a day to be thankful for your friends and family, but on Thanksgiving, we take special note of how lucky we are.
Share this item with friends