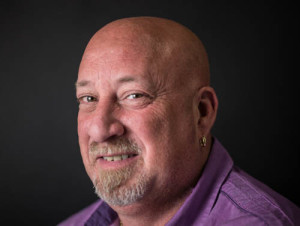 With all of the interviews we have completed in the past few years, we realized it's been a while since we've featured any of our own team members! We decided to help give our readers an inside look at the team they work with each time they speak with us—and we decided to start with one of our talented sales associates, Perry Blankman. If you want to learn more about what goes on behind the scenes for us, you're at the right place.
Perry Blankman is a treasured sales associate who has been with the company for 5½ years. In all of our time knowing Perry, he has been an excellent team member to work with. But, it was time to get to know more about Perry beyond his great work ethic. Keep reading to learn more about our team member!
What brought you to Boca Terry and what interested you about the company?
I spent about 15 years in the linen supply industry and had worked with one of the owners, Edward, through the years. I was working on a new opening at a spa and I decided it would be nice to come see Edward to learn if there were any new products I didn't know about.
At that time, I wasn't happy with my employment and mentioned that to him, asking him to keep his ears open for me. Within the next couple of weeks, he emailed me and asked if I was seriously looking—and he invited me to come in.
What is the most significant thing you've learned while working with the team?
The entire sales staff at Boca Terry is made up of very experienced sales people. Everyone has over 10 years of experience or much more, so there is always a perspective that is shared from someone here that can help you improve your craft.
Can you walk us through your typical day?
When I get in the office I check emails and respond to all inquiries and customers. After that, I get online and try to stay up on the current news to stay informed about what might be going on so I can keep up with conversation—this is important in sales. And then I follow a scheduler that reminds me of the people that needed contact—whether they requested to be contacted or because I contacted them previously and they asked me to get back to them at a later date.
My day can really be very different depending on what my emails were like that morning. To be honest, I might take ½ to ¾ of the day just handling emails, answering questions, typing orders, writing catalog letters, and sending out samples.
Sounds like you have a lot of work to do each day!
Well, the world is our canvas. There are a ton of hotels and spas that we've barely scratched the surface of—or never even talked to. There's quite a lot of business out there and it just takes some management of your time to reach them. Of course, the most important on the agenda is to handle our existing customers, but as a salesperson, you're always looking for new customers as well.
How many client accounts do you manage currently?
It could be as little as 5 clients a day and the rest of the day is canvasing. Other days, there could be 20-25 clients I'm doing something for. Some days, I can leave with my head spinning from being busy, but there are also days where I spent the majority doing research.
So, what's the secret to your success? How do you juggle these clients and tasks?
I think the secret is being organized. I'll admit I'm not always the best or most organized, but that's still the secret. You have to prioritize and handle your everyday business. The other secret is that I try to manage my priorities according to different accounts, or different industries for that matter. For example, I'll know that today I'm going to work specifically on the casino industry and, with the exception of everyday work, that's what I'm going to be doing all day
What is one of the biggest challenges you've overcome while working there?
That one's easy. I was an outside salesperson for 15-17 years, and my job here is probably 95% inside sales. That was very different and hard for me to get used to.
The majority of my work now is based on phone calls and emails. That's partially the nature of the role, but it's also partially because of technology. When you're out on the road, you can meet face-to-face with clients, but you can only meet a limited number per day. Now, I can probably reach up to 50 clients a day between emails and phone calls.
It helps me be more effective in my customer service, too. My clients might try to contact me when I'm out on the road and I can't get back to them until I'm finished at an appointment, which could take an hour or more. When I'm in my office, I can respond within minutes, sometimes even seconds.
Your clients might be on the road. If you're contacting them through emails and phone calls, I can reach them at any time. They can respond when they are able—and I often reply within a minute of their email. It's a different dynamic than being out on the road. I've found that it's the most effective way to do business. People are busy.
I noticed that your degree is in public administration. How has this influenced your career with the company?
You'll hate the answer. It's really done nothing for me other than indicate that I do have a degree and put 4 years into achieving that—but I don't think it's in any way enhanced my career today. I worked for a city for 4 years and, like they say, politics really exist too much. I didn't feel that things were done based on merit. As a salesperson, your career is decided by your effort and your success.
What is your favorite thing to do outside of work?
Unfortunately, my favorite things are sports, but I'm not able to participate much anymore. I'm a passionate football fan. My dad took me to Detroit Lions football games from the time I was 6 years old to the time I went off to college, and I still love those memories today.
What's your favorite part about the job?
I represent a great product. We really do make a great bathrobe. For the quality and price, I don't believe there's a better value out there. Boca Terry is a great company to work for. The philosophy here is to do right. I've worked for both good ownership and ownership that has no problem with lying or cheating.
Unfortunately, in sales, you have to do what owners want. But, I believe in integrity and I like to work with people who work that way. We really do care about our customers and take a lot of pride in both the product and the customer service.
Which Boca Terry product is a must-have in your opinion? Or, Which do you suggest to clients most frequently?
I would say our Knit Waffle Robe. It has a great weight and it sits on the body very well, comfort-wise. It's extremely comfortable, doesn't feel heavy, and has a nice coolness to it.
Of course, that might be a preference for me because it's hot all the time here in South Florida. But, think about it. Even if it were 6 degrees out, if the house was warm, a heavy robe would be too much for me.
If you had to invent one Boca Terry product or if you wished they manufactured anything else, what would you choose?
To be honest, that's a tough one. We have everything. We're constantly working on new fabrics and Edward encourages that if we see a fabric we purchase it and bring it in.
I've done that plenty of times. Imagine if something you suggested goes into production—it's kind of like your little baby. I'm thankful they allow us to do that.
Share this item with friends