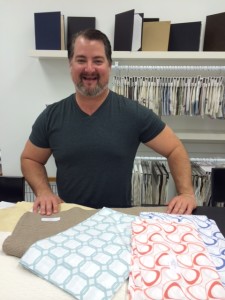 Alan Murphy from Pioneer Linens holds many roles: son, entrepreneur, businessman, and philanthropist. That's why we decided to  get to know him a little better. Keep reading to find out what drives Alan and how he gives back to others:
 Q. Your brand provides high-end linens. I see it's a brick and mortar store as well as online. Which of these is the most popular  branch for your company?
 A. Our online business has allowed Pioneer Linens to go global. Specializing in the finest sheets, towels, table linens and other home  accessories, Pioneer Linens has always been known as the go-to store for the world's elite shoppers.
 The internet allowed us to go a few layers deeper and reach customers that have the means but may not travel in the circle of  customers who helped us establish ourselves as a globally recognized Fine Linens Store.
 Most of our online customers are men and women, around ages 40-55, who have finally made partner or reached that certain level of  liquidity where they feel comfortable rewarding themselves with something as special as sheets, towels or a Boca Terry Robe.
 Our website has about 14000 products and almost 40,000 SKUs within our product categories, which allows for even the most  discretionary shopper to find what they are looking for.
Q. What is your role in the company? Your LinkedIn job title is very elaborate, yet calls for a further explanation. When you say entrepreneur, are you referring to this company? If not, would you mind briefly explaining your other business ventures?
A. My Grandfather was very insistent on my not working in the business until I finished college. I worked many different jobs, so I have a very diverse background. I grew up on my father's used car lot and working at a bicycle shop in Palm Beach.
The bicycle shop in Palm Beach allowed me to spend time chatting with some of the most recognized CEOs in the world. I asked a lot of questions while changing their bicycle tires and working on their bicycles.
This background helped me grow into who I am. Becoming very adept at sales and marketing and at a very young age, I was able to distinguish myself from my peers. That allowed for me to experience very unique job opportunities in business development from my mid-teen years, onwards to the present.
I do outside business development for companies that sell to the wealthy clientele or are in the luxury sector but want to move up in to the ultra-high net worth market.
Over the last decade of building the Pioneer Linens' specialty division, selling specifically to Yachts, Jets and Estates, I had the privilege of being exposed to unique experiences, and I learned about a very niche market, including how to successfully sell to that market.
It is a fun side business that allows me to stay sharp and also offers exposure to people, various sectors of business and opportunities that I never would be exposed to if I just stayed within the four walls of Pioneer Linens.
I feel it is part of my duty as the fourth generation of our family business to learn as much as possible about every facet of the Ultra High Net Worth (UHNW) market before my mother, Penny Murphy, President and CEO of Pioneer Linens, retires. We are a legacy and I want to carry the torch.
(Alan shared that he is happy to answer any questions about growing in the UHNW market. You can contact him at  amurphy@pioneerlinens.com)
Q. Can you tell us about your typical day of work?
What's the old saying about if you love what you do, you will never work a day in your life? Although every job has its moments, I am still able to say that I come very close to this.
A. My morning starts at my house in West Palm Beach, around 6:30am, and includes light exercise and walking my Lab/Hound mix, Bella. And, of course, a strong cup of coffee!
I usually meet with local business men and women from all sectors of the Palm Beach County business community, including attorneys, finance and small business owners or local influencers like nonprofits and politicians for breakfast around midmorning. This really helps me keep my hand in the community and let people that may not shop at Pioneer Linens know that we are involved in the community. We are not segregated because of our price point or who are clientele is.
I will usually stop by my West Palm Beach store before making the drive to our Fort Lauderdale location, which is where I spend most of my time. A lot of times, I am lucky to go see our clients on their yachts and jets or consult at some of the largest homes in South Florida.
I work at my desk a lot for lunch and then spend my evenings networking, participating in philanthropic fundraisers, or at my escape, clay shooting at various ranges across South Florida. I drive a lot, so I spend a lot of time making phone calls.
Q. What is it about your job that keeps you going? What do you love most about Pioneer Linens?
A. I have the coolest job in the world. I get to sell the finest sheets, towels, bath accessories and other really great products to the wealthiest people in the world. I spend my time doing business development around yachts, jets and big homes for Pioneer Linens and then referring the potential customers I meet back to my sales professionals at either of my two stores.
The rest of the time, I am connecting other businesses to each other—because we all know that, in business, it's not what you get but what you give to others that will help build your own business. Nobody likes a taker!
I also do the business development for other small niche businesses that want to learn how to engage the UHNW market. That allows me to learn and educate myself about markets that are in the Ultra High Net Worth market but may not have been apparent to me until I was engaged in helping them grow.
Q. What is the most memorable moment you've had while working at Pioneer Linens?
A. Narrowing it down to one memorable moment wouldn't be doing justice to what Pioneer Linens is known for. We create memorable moments for our customers. Because we are in our 103rd year, Pioneer Linens has amazing vendor relations and are lucky that the vendors understand who our client is.
We can make the impossible possible for our customers by utilizing our incredible vendor relations. My best example is same-day, custom, digitized embroidery or custom, altered sheets. It's the details that matter most.
Q. What are some challenges you have faced through your position?
A. Most of my challenges are time based. I have a very patient girlfriend who understands that my days aren't the typical 9-5 nor what I do for a living revolves around punching in or punching out. I have to conscientiously make time for those who are special and close to me in my life and also find quiet time for personal reflection to continue on this amazing path that I have found. I am lucky to have a great group of friends who are as driven as I am and understand when "work get in the way" of fun.
Q. We see you got an early start in retail, even outside of the family business—at the age of 10? Can you tell us more about that role? What was it like working so young and what did you take away from that experience?
A. My first real job was at the Palm Bicycle Trail Shop in Palm Beach Florida. I was lucky that the owner and store manager took me under their wings at 11 years old. I would repair bicycles and help customers in exchange I would be able to get parts for my road bicycle so I could ride competitively in the Florida race series.
It taught me the value of a dollar real quick even though we were trading labor for parts. At 12 or 13 I wised up and asked to start making a daily wage. That summer of 1992 I was making 25$ a day plus all the soda's I could drink in the coke machine. I learned a lot about retail and was a key-holder the summer of 1993 and worked there through early 2006 or 2007.
The bicycle shop, which is still around today, has a very robust tourist business and I learned how to talk to people from all over the world. I also was allowed to take inventory and merchandise the shop which I have been able to carry through top Pioneer Linens. Having the liberties to act as a decision maker at such a young age really pushed me to carry myself more professionally.
I loved selling the bicycles, too! Some of our customers were Jimmy Buffet, Ted Kennedy, Lilly Pulitzer. What has been nice is a lot of the bicycle shops customer base also shops at Pioneer Linens and I have had the opportunity to take care of the customers for the better part of 20 years now.
Q. In our research, we saw that Pioneer Linens has gone through a multitude of transitions, diversifying to meet customer needs and demand over the years—something that all historical businesses must do in order to stay relevant. For example, we found that in the 90s, your mother, Penny, worked toward attracting interior designers toward the brand. What do you predict is the next step or transition for Pioneer? How will this company "pioneer" the way, if you will?
A. The internet has commoditized so much of the textile apparel and home décor category. The next "Pioneers" will come from the intrapreneurs of the industry. My Great Grandfather, Max Greenberg, opened a tiny hardware store called Pioneer Hardware in Lake Worth Florida in 1912, selling dynamite, axes and chicken among other items to the Pioneers of Lake Worth, Florida.
He also opened a furniture store and changed the name of the company to Pioneer Hardware and Furniture.
My Grandfather took the store in the 1950s and 1960s to a home goods store and called the store The Pioneer Linens, then changed again in the late 1970's in to a fine linens store and started our inventory where the big box stores end their inventories.
My mother, Penny Murphy, joined the business about 20 years ago and saw the opportunity to grow the designer trade. That segment is still a big part of our business, today. She also saw the opportunity for Pioneer Linens to gain a voice in the industry and Pioneer Linens launched our first website, www.pioneerlinens.com, around 1997.
I came in the business in July of 2005. I spent one year working in each part of the business, learning how the company was run. After the year was up, my mom and my grandfather (who passed in 2007) said, "Alright kid, what are you going to do to earn your keep around here?"
My answer came as a surprise; I told them I wanted to start a yacht division for Pioneer Linens. We always catered to the owners of the yachts, so why not target that market specifically? After 9 years, we own a very large portion of the Mega Yacht market and are recognized as an industry leader. Along with that new segment of business, we opened a 2nd store—it only took 97 years. As a byproduct of selling to mega yachts, we now sell to the private jets and large estates. It has been such a privilege to bring a new segment to the company after so many years in business.
Q. Which Boca Terry products do you offer through Pioneer Linens, and which is your personal favorite?
A. Private mega yachts are very much floating hotels, and so are the UHNW's multiple vacation homes. We help with the hospitality experience by selling those customer segments lots of monogrammed slippers and lots of various collections of robes. We sell a lot of the Knit Waffle Collection. It has such a nice blend of cotton and modal that it almost floats on the customer who is wearing it.
My personal favorite is the classic, 100% cotton white terry robe. I have altered mine so the sleeves are shorter and the length is shortened. It's a great robe for having breakfast on the patio during winter in Florida (it's gets really chilly).
Q. Have your customers provided any feedback regarding Boca Terry items? Do they enjoy them?
A. My customers love the fact that we can get them very quickly. Since Boca Terry is in between our two stores, the staff at Boca Terry is very gracious when I stop in and need a dozen robes and 2-dozen slippers because the yacht is leaving that afternoon or the next day.
Q. Do you feel that Boca Terry represents the quality that you'd like Pioneer to be associated with?
A. I would not be taking the time to answer this question, nor would Pioneer Linens be selling Boca Terry products if they were not of the pedigree that our clients require.
Our clients stay at the fanciest hotels and experience the best that life can offer. They can have any robe, slipper, etc., and they continue to order Boca Terry products from us time and time again.
Q. Would you recommend Boca Terry products to others?
A. Everyone except for my competitors!
Share this item with friends