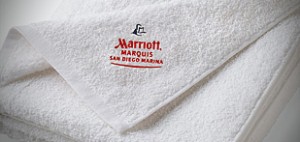 As a luxury hotel, you know you stand out from the rest. Your every amenity is designed to help your guests feel like royalty as you cater to their every need.
By making every individual who passes through the threshold of your lobby feel like they are uniquely important, your hotel immediately takes on a different patina. Guests feel contained, protected from the outer world, and ready to shed their cares.
From cuisine to poolside deck chairs, from bed to bath, every detail counts in a luxury hotel. That is why at Boca Terry we provide only the finest in supplies for our five star hotel and spa accounts.
One of the most obvious ways in which you show your sensitivity to your guests is in your quest for their utmost comfort. This shows itself in how you choose their linens, their pillows and mattresses, and most of all, their bathrobes and towels.
The moment your guests sheds their clothing is the moment when they shed the outside world. Whether it is for a short weekend or a long vacation, this symbolic first gesture suggests a trust in your hotel's ability to create an environment that is safely distinct from the hustle of quotidian life.
It is this moment that your towels stands out as the symbol of everything else you have to offer. Psychologically a towel stands for not just its own quality, but also the quality of what you represent as a hotel.
At Boca Terry our towels are created for not just the ability to endure thousands of wash cycles. They are made with luxury in mind.
And what could be more luxurious than a towel embroidered with the logo or emblem of your hotel? This gesture immediately suggests exclusivity, as it points to that extra care you have taken to offer towels that can be found no where else.
An embroidered towel helps bind the memory of a great hotel stay. Each time guests dry their hands, wick away water after a shower, or wrap themselves in a bath sheet by the pool, they are reminded of where they are by the exquisitely created logo that our Boca Terry embroidery experts have created for your brand.
Because we know that paying attention to every nuance is what is expected of a luxury hotel, we heartily recommend that this extra awareness is something that you as a buyer take into consideration. Our many clients who make this choice are well rewarded for it through not only the comments they receive from their guests, but also the repeat bookings and powerful word-of-mouth that are a direct result of a hotel's amenities.
We know this because we ask. The strong relationships we make with our customers are what has enabled us to grow and evolve our product line as we constantly strive to outdo ourselves in quality and style.
For more information on putting an embroidered design on your towel order, please contact us by calling 877.421.6001 or through our online form, which can be found at http://50.97.39.122/~bocaterry/contact-us.
Share this item with friends