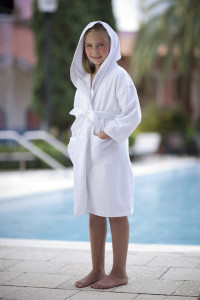 It seems that each September, parents rejoice and children cringe at the thought of school beginning once again. Regardless of your opinion about school returning, we want to wish everyone a great and successful 2014-2015 school year! The back to school season is a busy time—and, as you can see, not even Boca Terry is immune to this busyness! Here is our favorite way to relax in the midst of the back to school buzz:
A Calming Comfort
Robes are the perfect way for your kids to unwind from the stresses of school. After a long and busy day of classes, homework, chores, and play, every kid loves to snuggle up in their warm robe to de-stress, relax, and get ready for bed.
Plus, there is a perk for parents: a robe is the perfect way to soothe the youngsters and get them to (finally) calm down!
Our tip: get your kids started on a routine. Changing into a robe means getting ready for bed. 
Our Favorite Picks
Kids will love the warm, soothing, teddy-bear-soft Hooded Microfiber Bathrobe. It is available in a toddler size that is perfect for 1-2 year olds, a 3-5 year old size, and youth size, which is great for ages 7-10!
Trust us, this robe is perfect for your kids; it is irresistibly comfortable!
No matter what your school night routine is, we hope it is a calm, peaceful, relaxing one!
Share this item with friends