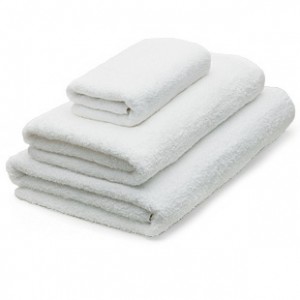 You walk into the newest superstore and notice adorable towels on sale. Appreciating the great price, you grab several of the towels, toss them in your cart, and move along. Without questioning the product aside from its price, you trust that you are preparing to make a practical purchase. However, what is wrong with this scenario?
Know Your Purchases
With so many companies delving into the towel industry, it is important to differentiate top of the line products from mediocre manufacturers. Because consumers and buyers prefer the highest quality product for the lowest price, manufacturers and suppliers must create innovative ways to lower production costs and provide affordable products made from the best material. However, many companies use shortcuts, utilizing poor quality fabrics. Bath towels should always be made from great materials—this is not a matter of preference, but of fact.
All About Terry Cloth
Terry cloth, the most popular fabric used for towels, is strong, durable, long-lasting and incredibly absorbent. Made from cotton, terry cloth is comprised of tiny loops that catch water. The longer the loops, the more absorbent the towel is.
Why Quality Counts
Picking up a cheap towel at the nearest convenience store doesn't sound like a horrible idea—until you put this towel into action. Cheap towels are typically not very absorbent, tend to produce a lot of lint (due to the use of uncombed cotton) and suffer from pilling after washing and drying. Instead of saving money, you wasted it on a bad product with low performance.
Don't Be Fooled
Even cheap towels might feel good at the store! Many towel distributors coat their towels with a softener so that, at the store, customers will be drawn to the soft nature of their product. However, after one or two washes, this softener wears off—leaving buyers with dry, brittle towels. Always read details when purchasing towels so you are not fooled into paying too much money for poor quality.
Materials Matter
Good terry cloth is made from 100% cotton, an incredibly absorbent material. Great terry cloth, however, is developed from 100% combed cotton.
What is Combed Cotton?
All cotton is combed to some degree to remove debris and seeds from the cotton plant. However, cotton that is combed once or twice more results in much finer cotton. The shaggy, loose fibers are combed out, leaving only long strands, which are spun into thread.
How Does This Affect Quality?
Although fibers seem small and insignificant, this makes a huge difference in the final product. The combing process removes the short, scratchy fibers, resulting in a softer fabric. This also reduces the amount of lint that falls out of the fabric, as most of it was combed out before the thread was even spun.
Towel Weight
Longevity, durability and absorbency are all benefits of purchasing towels made from heavier fabric. They are less likely to tear, shred and develop holes than thinner and lighter towels.
The Difference Effort Makes
What makes a Boca Terry Towel stand out is quality. Not only are our towels durable, strong, and absorbent, but they are also soft and affordable. Our attention to detail results in outstanding towels at unbeatable prices. Because we carefully design and craft our towels, robes and spa accessories, we are sure you and your guests will be happy with the end product.
Designing and Manufacturing
Quality of a product begins in the design room. We take full ownership of the design and manufacturing of each of our wholesale bathrobe, towel and spa accessory products. All fabric utilized for Boca Terry bathrobes and spa products are woven at our factories. From years of expertise in the manufacturing industry, we have refined our manufacturing process down to a science with meticulous fabric research for quality, unique design for innovation, sample making and systematic lab testing.
Affordable Amenities
We source product from all over the world to come up with the quality standards and competitive pricing that is essential in today's volatile economic climate. We have designed and manufactured two different collections of towels buyers can choose.
Sunny Lane Towel Collection
These classy white bath towels are made from 100% combed cotton terry. This collection has a beautiful terry finish that comes in 4 sizes: wash cloth, hand towel, bath mat and bath sheet.
Resort Towel Collection
These textured, jacquard towels are available in 4 sizes, from washcloths to large bath towels. Made from 100% combed cotton terry cloth and incredible absorbent, these towels will leave guests happy, comfortable, dry and warm.
Customize
Once purchasing managers have found the perfect towel that suits their needs, they have the option to customize products. Design a bright, eye-catching pattern or incorporate the company's logo by embroidering it on the border of the towel. We still use only high quality materials during the customization process, ensuring that our clients get exactly what they bargained for.
Boca Terry: the Best Towels
Boca Terry towels are some of the most impressive in the world. Found in top name hotels and resorts, our towels are soft, effective and durable—just what every company wants in a good towel. Don't wait to experience these amazing towels. If you have questions about pricing, or if you are ready to order wholesale towels, contact us today!
Share this item with friends