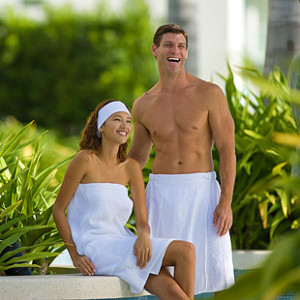 After boarding the huge cruise ship, you only have one thing in mind: heading to the boat's spa, located in close proximity to a large pool and several soothing hot tubs. With outstanding views of the deep, vibrant, blue sea, there is no better place to relax on vacation.
Time for Rest and Relaxation
Excited, you find a bath towel from your room and wrap it around your frame before locating the spa. As you walk around the impressively large ship, you notice that your towel keeps slipping. Annoyed, you repeatedly tug the towel back up and tie it again. As you approach the spa, you realize how irritated you are. This walk was more frustrating than relaxing – so much for a calming trip to the spa!
Solving a Common Problem
Establishment owners, you never want guests wishing there was a better alternative. Rather than just letting visitors hoping their towel stays, owners should combat these frustrations. A spa wrap goes a long way. A very useful amenity for guests, spa wraps create ease and comfort when lounging in the steam room or walking from place to place.
Secure and Useful
Spa wraps are perfect for warm weather. While the sleeves and collars of a regular robe might be too hot for particular climates, spa wraps provide just the right amount of coverage. Without the fuss of unsecured towels and the heaviness of many robes, the spa wrap makes lounging easy for guests. That doesn't mean that they aren't secure, though! Our wraps are suited with three adjustable snaps. They also have an elastic band for maximum security and comfort. Even better, guests don't need to worry where they've left personal items as they can secure their room key and cell phone in the large pocket on the front of the robe. Try finding that on a towel!
Fashionable and Functional
A spa wrap is a classy, fashionable alternative. Soft and never itchy, our spa wraps are made from absorbent combed cotton and moisture-wicking polyester. Men's wraps come in the classic basic waffle, or our very soft velour. Women's wraps are available in velvety velour, cushioned knit waffle, textured basic waffle and soft microfiber, giving her ample options for relaxing in. There is a beautiful spa wrap to suit every guest's needs. The men's wraps come in crisp white, and the women's are available in white or warm, soothing ecru. Each and every one of your visitors deserves to experience the comfort of a no-fuss spa wrap. Great for all guests, the sizes range from one-size fits all to 4XL.
Raise Your Rankings
Towels at resorts are a hot commodity. Countless resorts are known for running low on towels, leaving guests unhappy, cold and wet during their vacation. Don't allow your guests to become annoyed from the lack of towels at your spa, pool, hot tubs and beaches! Ensure there are enough to go around by offering spa wraps! Doing so will reduce the number of towels used for leisurely lounging, while also providing your guests with a covering in the event that all of the towels have been used the day!
An Easy Alternative that Towels Can Take On
However, it is not safe to say that the days of wrapping up in a towel are over. While our carefully crafted, beautiful spa wraps may seem to be an easier, comfortable substitution for the tricky towel wrap, nothing can come close to the warmth and comfort of a high quality bath towel for some of your guests. Although times are changing, some travelers still prefer a classic bath towel to the modern spa wrap. If wraps are not in the cards for you or your establishment, a great collection of towels is still a much needed amenity. See why they are still a great option!
Bath Towels: Excellent Amenity
Both bath towels and spa wraps are highly effective amenities with different uses. Nothing beats a fresh-smelling, warm, clean towel straight out of the dryer. Invented in Turkey, towels have been used for hundreds of years, and nothing will ever replace the trusty towel for drying off at the beach, after a dip in the pool, or after a long bath.
Top of the Line Towels
Our heavy, durable, plush, towels will keep any towel believer enthusiastic about their preference. Crafted with 100% combed cotton, and available in two collections, our towels are worth unbeatable. Try our classic terry Sunny Lane Collection or our smooth, textured jacquard Resort Collection! Absorbent, strong and extra soft, these towels will be sure to keep your guests happy, dry and comfortable. With towels this perfect, don't be surprised if you find guests battling over the last towel. It's time to stock up!
Boca Terry's Better Towels and Spa Wraps
The never ending battle of towels versus spa wraps: pick your side, decide and provide. No matter which you and your guests prefer, make sure there are enough for everyone! If you are interested in our high quality spa wraps and bath towels, there is no better time to buy! Contact us today for wholesale pricing or to place an order!
Share this item with friends