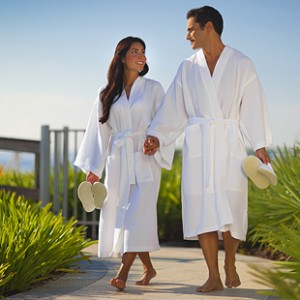 Those who suffer from skin sensitivities understand the painful discomfort that comes along with wearing the incorrect type of clothing. Lucky for you, Boca Terry offers several products that can help prevent this occurrence, depending on the cause. Keep reading to find out which items will work best for you and your guests!
Skin Sensitivity Causes
Of course, we are not doctors and cannot guarantee medical results, but there are several factors and remedies to consider when dealing with sensitive skin. First, let's review a few reasons people experience skin sensitivities:
Allergies: Those who battle allergies to certain materials as well as fragrances, dyes, and chemicals can experience sensitive skin.
Rashes: Rashes can be caused by allergies, but they can also result from skin irritation due to abrasive materials and tightly fitting clothing.
Dry Skin: Dry skin tends to be more sensitive than fully moisturized, healthy skin. Tight clothing and rough fabrics can further irritate dry skin.
Eczema: Eczema is a skin condition classified by the rough, dry patches it produces all over the body. It can lead to dry, cracked, bleeding skin. Although it is often triggered by various factors, such as diet and whether or not the skin is moisturized, certain clothing can lead to further irritation.
Psoriasis: Notorious for causing painful, cracking, dry skin (which often leads to bleeding), psoriasis is a very uncomfortable skin condition.
As you can see, skin sensitivities can form as result of a number of reasons. It is important to understand your needs, your guests' needs, and to determine the bathrobe that best diminishes this discomfort. Here are some of Boca Terry's favorites:
For Rashes & Dry Skin Prone Sensitivity
Those who suffer from rashes and dry skin can benefit from the following robes:
Microfiber with Plush Lining
This robe is am excellent choice for anyone suffering from dry skin and rashes. The soft, plush French terry knit lining lays gently over the skin, allowing for minimal abrasion and discomfort. Available in Medium, One Size Fits All, and XXL, you are sure to find the right size to keep your guests soothed.
Pink Kimono Satin Bathrobe
The cool, soft, smooth sensation of this robe over sensitive skin is unmatchable. Your guests will not deal with sensitivity due to irritation, and they will not feel the discomfort of their dry skin rubbing against harsh fabric. This robe is the epitome of soothing comfort. Made from 100% soft polyester, and available in One Size Fits All, guests will be happy to don this robe, whether or not they are prone to sensitivity.
For Eczema & Psoriasis
According to Everyday Health Magazine, anyone who struggles with psoriasis and eczema should choose loosely fitting, cotton clothing. "Compared to other fabrics, cotton is less likely to irritate the skin or cause overheating. So try to wear lightweight cotton clothing next to your skin when possible, and avoid materials such as wool and synthetic fabrics" (Bhatia). We have several options to fit the bill:
Made from 100% combed cotton, you almost need to feel this robe to truly believe how soft it is. Because it is cotton, those suffering the effects of psoriasis will feel less irritation. Not to mention, this robe is incredibly soft; it will feel great against anyone's skin—even those with sensitivities. At 52 inches long, it can help cover a larger area of dry skin patches and cracks on the legs, that some psoriasis and eczema sufferers want to avoid displaying. Available up to 4XL, this bathrobe fits everyone's needs.
This robe comes available in 100% cotton (but, be sure to specify, as we offer a polyester blend for customer convenience, as well). This waffle patterns allow this robe to be loose and very lightweight. No longer should guests deal with added weight and pressure on irritated skin; this soft robe is the perfect, smooth option that will ensure guests are comforted. Also available up to 4XL, this robe is a great choice for anyone and everyone.
For Skin Allergies
Unfortunately, those who suffer from skin allergies can battle sensitivity on a daily basis. Those facing allergies to dyes and chemicals will want you to stock up on these robes:
Organic Classic Shawl Collar
Because this classic, cozy robe is made from 100% certified organic cotton, it is free from the chemicals and dyes that irritate the skin of many around the globe. Solve this issue by providing guests with a special treat—the plush, organic cotton bathrobe. It is available in traditional terry, or the incredibly soft cotton velour; your guests will be forever thankful.
Organic Lightweight Waffles
Another lightweight cotton option, this robe is gentle on the skin; not only because it is crafted from 100% certified organic cotton, but also because it is so light against their shoulders. Purchasing this robe will show guests that you are doing everything in your power to avoid leaving them uncomfortable, battling rashes and itching. Go ahead; invest in this soft, well-crafted robe.
Boca Terry's Store: Battling Terrible Sensitivities
You already love and cherish your guests; make sure they love, cherish, and trust your establishment, too! There is no better way to thank guests than to ensure they are completely comfortable. We highly suggest providing guests with one of our options in order to reduce the occurrence and pain of skin sensitivity. For questions regarding our products and pricing, or to order wholesale, contact us today! We look forward to hearing from you.
Share this item with friends