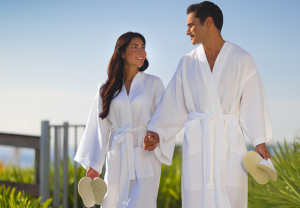 A new season means new styles. But this isn't just any season. As summer rolls in, so does the high heat of each day. That means that your guests will want something breathable, light, and cool to enjoy during their stay with you.
Unstoppable Summer Bathrobes: Key Features
What should you look for in a great summer bathrobe? Here are some key features that we suggest you opt for in your guests' summer wardrobe:
Length. Some people argue that shorter is better when it comes to summer robes. But, keep in mind that it gets a bit chillier at night! You want something airy enough that you can wear it during the day, yet long enough to use to cover up at night.
Material. Breathability and absorbency are huge factors in the middle of summer. You want to make sure you find a bathrobe that has a good balance of both. Most synthetic materials aren't a great choice for summer weather—with the exception of polyester and its moisture-wicking properties.
Weight. You don't want something too heavy for summer. You can save the hooded bathrobes and fleece robes for winter!
This summer, check out the freshest styles for you and yours. Ready to find the right robes? Here are some of our favorite bathrobe trends for you to use at your hotel, resort, or aboard your cruises this summer:
Microtec Bathrobe
A perfectly plush bathrobe, the Microtec robe is an excellent choice to stock up your resort with over the summer. Made with our extremely soft signature Microtec, these robes are fresh and fun! Crafted with 85% Polyester and 15% Nylon, these robes prove to be an excellent option for your guests. These materials are moisture-wicking, meaning that they are perfect for a hot summer's day. Our Microtec also features generous pockets and a hanger loop for easy storage.
The raised pattern offers soothing comfort to guests—and you even get to choose your pattern: pineapple, or mini check. Best of all, this robe comes available in kimono or shawl style, ensuring that you are able to offer the right level of elegance and comfort that matched your company's style.
Pink Kimono Satin Robe
The Pink Kimono Satin robe is an excellent choice for anyone looking for something a bit softer that is still subtle and feminine. Designed from pale, shimmering pink polyester satin, this perfectly light and moisture-wicking robe is a sweet and simple choice for your establishment. Just 36 inches in length, this robe is the perfect length for enjoying a hot summer day or a warm evening.
We know this is still a season early, but are you considering a breast cancer awareness event this year? Now is the time to start planning and narrowing down your options for promotional products to help deliver the message. Several organizations have opted for this bathrobe, year after year.
Shawl Waffle Bathrobe
An incredibly breathable option, the Shawl Waffle Bathrobe is many hotels' first choice for summer bathrobes. Made from a drying cotton and moisture-wicking polyester blend, it makes a great choice for the warmer seasons.
Also featuring cozy roll-up collar and cuffs, double belt loops for adjustable belt height, generous pockets, a hanger loop for easy storage, and optional color piping, there is something for everyone. The piping comes in three available color options: black, navy blue, and royal blue. Making it even better, this robe comes in two different waffle pattern options—basic waffle and diamond—to ensure that your style is perfectly represented.
Kimono Waffle
The pivotal sign of a great summer bathrobe is whether or not it is absorbent, moisture-wicking, incredibly light, and not too long. The good news for you is that the Kimono Waffle is all that and more. Why settle for anything less than the best summer bathrobe?
Organic Lightweight Waffles
You might have noticed that more and more consumers are paying attention to the ingredients in their foods and how materials have been sourced for various items. If you want to ensure your travelers are completely comfortable, give them the peace of mind that comes with wearing an organic bathrobe.
Our Organic Lightweight Waffles robe is made with 100% certified organic cotton. It comes in the classic checkered pattern for a soft and smooth feel.
Boca Terry: the Best Summer Bathrobes
Don't see the robe you are looking for? Review the rest of our selections. Ready to place your order? Contact us now with any questions about wholesale pricing or to order!
Share this item with friends