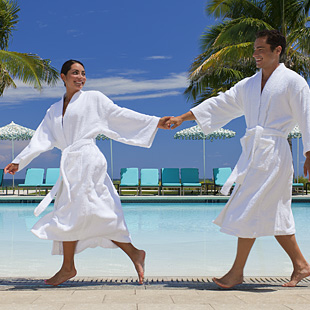 It's hard enough to leave a hotel or resort that offers you the world after a wonderful stay without having the heartbreak of leaving the robe you've fallen in love with behind as well. At Boca Terry, we've been accused time and time again of providing bathrobes that are far too magnificent and luxurious, causing separation anxiety in many guests who have hardly taken them off during their entire stay!
Cozy, Sensual, Stylish, and Fitting
It's not our fault that our robes are so cozy, so sensual, so stylish, so fitting for every setting that people are hard-pressed to find anything comparable in local stores. If a hotel, resort, spa, or bed and breakfast that carries our products doesn't have an online boutique starring our products, they might just be accused of breaking the rules of providing total customer service.
Retail Due to Popular Demand!
But there is good news! Boca Terry caters to retail as well as to wholesale clients. We've had to, due to popular demand. So, fear not. You can easily order bathrobes from your favorite hotel or resort right here online on our site, just pick your style.
The Allure of Luxury Materials
As the premier distributor for high-end establishments, we know the power and allure of luxury materials. We pay attention to the details, which is what has separated us from all the other bathrobe lines competing for your attention.
Looking Like a Fashion Plate
At Boca Terry, our fabrics are selected from the finest materials and sewn with the care that one would expect in a one-of-a-kind model. Our specially trained craftspeople know what it takes to make a bathrobe that looks like a million dollars, feels like heaven, stands up to years and years worth of washings, and makes you look like you just stepped out of a fashion magazine.
Keeping It Affordable
Because you found out about our robes when you stayed at that five star hotel or resort, you're probably thinking they cost an arm and a leg, and then some. Nothing could be farther from the truth. We began our company believing that it was possible to create a five star robe that could also be affordable, and we've kept to this premise for all of the many years we've been in business.
A Wonderful Range of Robes
Our Boca Terry catalogue features a wonderfully wide range of bathrobes that are ideal for any taste, as well as any shape. Most of them are made to drape over a wide range of body types, male or female, creating a silhouette that is both flattering and elegant. For those of you who require a plus size, we have many styles that will provide you with the same comfort and grace.
What You Can Find
Here is a list of the robes you will find on our site, all of which can be customized with unique embroidery:
•    The basic kimono
•    The checkered bathrobe
•    The classic shawl collar bathrobe
•    The fleece kimono bathrobe
•    The hooded bathrobe
•    The kimono waffles
•    The knit waffle bathrobe
•    The micro chamois bathrobe
•    The microfiber bathrobe
•    The microtec bathrobe
•    The microterry bathrobe
•    The mini stripe
•    The pink kimono satin
•    The satin stripe
•    The shawl waffles
•    The velour stripe
•    The organic basic kimono
•    The organic classic shawl collar
•    The organic lightweight waffles
You will see descriptions of each one of these uniquely created robes on our website, but we do want to mention a few to give you an idea of how difficult it might be to choose! And in this regard we find that most of our retail clients end up buying several styles to suit their every mood, as well as each season.
Terry Cloth Robes

Our terry cloth robes are one of our best sellers. Thick, fluffy, and superlatively soft, they drape around the body in an embrace that never fails to seduce. With their deep pockets, a large hood that wicks moisture away from wet hair, a loop for hanging the robe up to dry, and belt loops that allow you to adjust the waistline according to yours, these babies are almost impossible to take off for all the comfort they provide.
Casual and classy, our terry robes are truly a symbol of a time well spent, which you will recognize if you had the privilege of wearing them during your vacation. Once they are home with you, you can relive that sense of ease and relaxation. Made of either 100% pure cotton or a blend of cotton and polyester, Boca Terry's terrycloth robes are as sensual as they are durable.
Fleece Kimono Robes
Cold weather calls for one of our Fleece Kimono robes, which are as plush as any robe can come.  Made of 100% high quality polyester, the Asian styling inherent in this model is extremely sophisticated in its pure simplicity. From hotel to home, these robes are made for the ultimate in lush lounging.
Waffle Robes
On a completely opposite seasonal note, the Waffle robe is a lightweight beauty, perfect for warm weather or for relaxing as you let a body oil moisturize your skin after a bath or shower. Select your model in a kimono style or with a shawl collar and discover how even a lighter robe can provide a tremendous sense of sensuality. For those of you who take a more holistic and environmental approach to what you place next to your skin, our Organic Lightweight Waffle robe is made with 100% certified organic cotton, which means nothing but natural fibers.
Pamper Yourself!
There is no reason why you shouldn't treat yourself with the same tender loving care as that which you get from a good hotel, resort, spa, or bed and breakfast. At Boca Terry we feel that going away for pampering is actually a dress rehearsal for what you can be doing for yourself at home. Providing yourself with a bathrobe you've enjoyed at your favorite hotel or resort is something that will always remind you of the attention you deserve.
Contact Us
For information on ordering one of our luxurious robes, please contact us today by filling out our online form or by calling 877.421.6001.
Share this item with friends