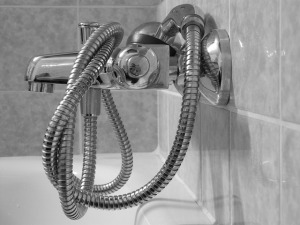 Bathrooms are incredibly important to a hotel, spa, resort, or cruise. In fact, bathrooms can make or break the customer experience. Have you ever been to a hotel, restaurant, or anywhere else and combatted a questionable bathroom experience? Bad bathrooms will not only deter customers and clients by making them uncomfortable, but also a bad bathroom can really reveal the age of your establishment. If you don't have the time or money to revamp your entire place, opt for a bathroom makeover.
After all, a new year means a new you—and that includes businesses, too! Go ahead: consider a makeover for your establishment—the first place to start is the bathroom. Want to know the best makeovers and trends for your bathrooms this year? You've come to the right place.
1. High Ceilings and More Room
The bathroom was once a small area of the home, hotel, or resort, added out of necessity and convenience. However, bathrooms are getting a lot of attention this year; big bathrooms are ready to make their debut in 2015. High ceilings, bigger showers, and custom vanities that hold more items are trending this year.
2. Stand-Alone Bathtubs
There is something extra relaxing about a bathtub that does not double as a shower. Whether opting for a jet-style bathtub, or a vintage design, a stand-alone soaking tub is on the top of the list for 2015.
3. Gray Hues
Gray paint is in this year, according to the Huffington Post. White bathrooms tend to look bland and boring; gray bathrooms are bold! Still looking to incorporate classic white? Consider opting for stark white luxury towels. Your bathroom will be automatically elevated.
4. Accessories
You cannot skimp on the accessories and amenities when it comes to a bathroom. One of the most important items to include is the classic bathrobe. Whether plush, lightweight, or organic, a bathrobe is always the perfect addition to every bathroom.
Get ready for 2015 with these simple bathroom upgrades. You are sure to be the talk of the town all year long.
Share this item with friends