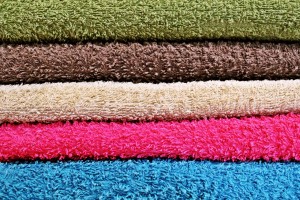 Whether for your hotel or your home, there are several unique options for hanging towels that will surprise your guests and incite curiosity.
If you are bored of bland towel racks and unstable hooks, don't fear. There are tons of unique options to brighten up your bathroom and bring it to life.
Whether you are looking to redo your entire bathroom or you'd just like to bring in a few elements of interest from a design standpoint, now is a great time to get started on that bathroom makeover. Here are some of the designs that caught our eye—and might catch the eye of anyone using your bathrooms as well:
Drift Wood or Lumber
If you have a more natural theme—such as beach or rustic—then one of these options will work well for you. Find a sturdy piece of driftwood or a thin piece of lumber (such as a stripped and sealed branch) to hang towels over. Attach it to the wall, parallel to the floor for a subtle, naturally beautiful option. You can make your own with these step-by-step instructions.
Modern Art
If you have a contemporary themed bathroom, use a piece of modern art for your towel bar. Not a real piece, but something inspired by it, at least! Not sure where to go with it or where to start? Try this towel bar.
Towel Warming Ladder
The Scaletta is a unique towel rack that looks like a colorful ladder or step stool—but the most interesting part about it is that it's a towel warmer as well. Plugged into the wall, this rack heats your towel as it rests on it. Now, you can always have that "fresh out of the dryer" feel.
These modern, sleek, effective and sturdy ideas deliver that always a welcomed combination of innovation, decoration and function. These particular designs are unique and eye-catching. They are perfectly complimented by fresh, clean, new towels. Using these towel-hanging methods might result in an interest in new towels that match up to the quality associated with these options—like our signature Sunny Lane and Resort Collections. Don't say we didn't warn you!
Share this item with friends