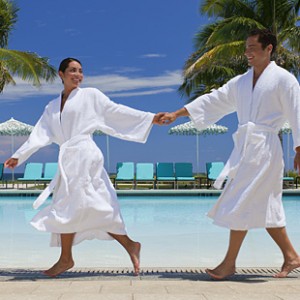 A Little Geography
The islands of the Caribbean stretch out over the vast expanse of water just off the Florida Keys and extend south to the shores of Venezuela and Colombia, west to the Yucatan in Mexico and east to the Windward Islands. What do the thousands of major and minor islands that occupy this vast expanse of water all have in common with each other? They are all vacation destinations, and some of the best in the world! The other point of similarity is the tropical weather. It is hot on the islands. No amount of ocean breeze or margarita mix will negate the fact that Jamaica or Trinidad is sweltering in August. Sizzling islands usually offer cool and pristine hotel environments for lounging. Many considerations are made by management about the comfort of the guests while visiting the property, some examples are pool temperatures that are set a bit cooler than they would be at mainland resorts, air conditioning systems that are usually cranked up a bit cooler and luxury items like bathrobes are often times cotton for ultimate breathability.
The Heat is Always On
As continental mainlanders step off the plane in a tropical destination like The Dominican Republic or Martinique, the first thing they will want to do is take a shower or bath. The humidity and heat on the islands are formidable and not for the faint of heart. Upon being shuttled to the hotel property, guests will expect to  experience the ultimate in comfort. One of the finer touches will be the moment when they notice the beautifully monogrammed organic cotton bathrobe hanging in the closet of their hotel room.
Doing Your Job Well
As the purchasing manager of a tropical hotel destination it is important to decide that comfortable robes are the right luxury statement when trying to maintain a steady base of repeat business and guest satisfaction. Choosing bathrobe material wisely is a breeze! Always stick with cotton for ultimate breathability and terry cloth for the ultimate in water absorption.  These factors are important when it comes to striking the right balance between comfort and function. If you can't decide, try both!
Always go for Quality
Materials, colors, and logos are a few of the options that are available for customization when it comes to deciding on the right looks for a bathrobe at any tropical destination and as a purchasing manager the ball is in your court. Projecting a level of cool sophistication? Maybe just comfort with no pretension? The options are always limitless and fun. It is up to you to set the tone and standard for your company's corporate image. So it is important to do some research.
Some of the best resources can be found on the internet. Check out BocaTerry.com, where you will find the ultimate treasure trove of bathrobe related information that will sure to reinvigorate your passion for creating a guest experience that goes above and beyond the accepted industry standard.
Share this item with friends