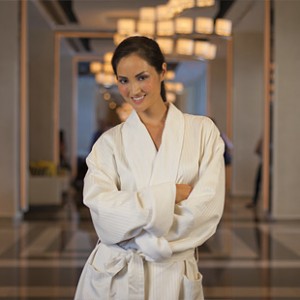 A fluffy, snug terry or velour bathrobe is a nice end to a bath or shower. Going from a warm-water cocoon to a cozy cotton cocoon is a smooth transition, and it prevents chills. Reality doesn't always have to be hard and cold.
What's so great about terry bathrobes? They have graced the suites of five-star hotels and spas for years. Hotels, resorts, spas, medical facilities, cruise lines and promotional product companies stock high quality bathrobes for elite clientele.
WHY ARE THEY SO COMFORTABLE?
Luxury bathrobes are so well-made and so comfortable, they are irresistible, as many commercial enterprises have found over time. Even though secure stitching keeps the cuffs and pockets in shape and the appearance of the bathrobe well-maintained, replacements are still necessary from time to time.
The convenient aspects of a good bathrobe are big, handy pockets, double belt loops for adjustable waist height and a hanger loop. People want natural products more than ever, and 100% combed cotton terry or velour is certainly natural. They are the best bathrobes for a spa. Organic cotton bathrobes are available for commercial establishments and individuals who want to be very green.
Terry and velour kimono-style bathrobes come in weights of 12, 14 and 16 ounces. There are many choices of fabric design in these all-white, comfy robes. Other choices include checkered, fleece, satin-striped and waffle knit kimonos or shawl collar robes. What could be better than a warm terry bathrobe? A warm terry bathrobe with a large hood could be better on a chilly evening. Add cocoa and enjoy.
IMAGINE THE BATHROBE
Lounging around the hotel room or strolling over to the spa is so easy and relaxing in a nice, loose bathrobe. After a great massage, just throw the robe on and return to the hotel room for a satisfying loll and a good snack. Call for martinis and toast the day. The best bathrobes for a spa are also the best bathrobes for any place chosen for rest and repose.
THE CHOICE FOR SPAS
Spas prefer luxurious terry or velour bathrobes for their absorbency and comfort. Monogrammed robes will subtly remind guests of the source of their comfort. Guests want to experience true comfort and relaxation at the spa, and a bathrobe can make or break the experience.
The best bathrobes for a spa can be obtained online or by phone. The choice of many fine establishments is Boca Terry. Guests enjoy their getaway time at the spa in these soothing, cozy terry or velour bathrobes.
CONTACT INFORMATION
Information about Boca Terry Bathrobes and the best bathrobes for spas, can be found online and at the following numbers:
Phone: 954-312-4410
Toll free phone: 877-421-6001 x210
Toll free fax: 866-530-9743
Boca Terry has provided luxury bathrobes to fine spas and hotels since 1996. Their luxury bathrobes are found at Ritz Carltons, Raffles, Golden Door Spas and other five-star hotels across Europe and the Far East. They embroider bathrobes with the artwork of choice for each establishment or individual request.  Visit their website at www.bocaterry.com to view all of your options!
Share this item with friends