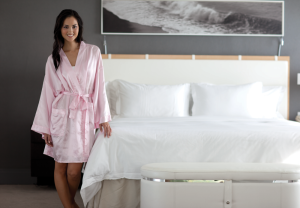 Whether you're looking for an anniversary gift, a birthday present, or just a sweet token to remind her that she is loved, a bathrobe is an excellent and simple option. After all, everyone loves bathrobes, so you can't go wrong!
But remember, each woman is different—so you'll want to pick a bathrobe that speaks to her style. Not sure where to begin? Boca Terry has helped to identify some robes that we think she'll love. But first, you have to know what she likes or what she's looking for.
Not sure exactly which robe she will love but have a general idea of her interests? We have created a list to help you choose based on her everyday style. Ready to find the best bathrobe? Get started now.
Bathrobe Selections Based on Personal Personality and Style Choices
Like we said, knowing her will help identify which bathrobe she might like. You don't have to know every detail about her (leave a little room for some mystery!) but these guidelines should help you narrow down a great bathrobe based on what you do know about her.
How are you going to know which to choose? Well, first, ask yourself whether or not she is:
Sporty
If you have a sporty woman in your life, she might want something to wear to the gym, in the locker room, or after a big game. Something that is bold enough for a champion, yet light enough to keep her cool. We suggest the Knit Waffle Bathrobe. This selection is lightweight, airy, and breathable. She will feel better than ever wearing a bathrobe with such an athletic silhouette. Plus, it pairs perfectly with our sporty Open Toe Velcro slippers, which are very popular among athletes.
Ultra Feminine
The Pink Satin Kimono is the right choice for all the girly girls. It is gentle, soft, and gorgeous against her skin. Made with silky-soft satin in a gentle, pink shade, she will be ecstatic to receive such a beautiful and useful gift.
Subtle in Nature
Some women are more comfortable being and feeling behind the scenes. They are the ones who do not call out for attention and are comfortable in their skin. They are calm, cool and collected—just like the Satin Stripe Bathrobe. This soft option is a beautiful bathrobe—but, just like her, it has a little spark! This bathrobe features a beautiful, gentle vertical stripe that accentuates the plush materials.
Elegant
The Microfiber Bathrobe is a great way to let her true personality shine. It is comfortable, beautiful, and elegant, which is everything she already loves. Plus you can pick her favorite color from our luxurious shades.
A Comfort-Lover
Like the elegant microfiber bathrobe, the Microfiber with Plush Lining is a step up in luxury. This version features a plush lining. All comfort, this bathrobe—one of our most luxurious options—is soft and plush, helping each wearer experience extreme coziness.
More Laid-Back
For the more casual woman, the Hooded Bathrobe is a great choice. It is casual yet cute—and the hood comes in handy! It's the perfect choice for getting ready in—and it will even dry her hair while she prepares for her day.
Select Her Style and Make Her Day
Everyone is different, so it still might be hard to pick—but the good news is that nearly everyone loves the soft feeling of a fresh Boca Terry bathrobe against his or her skin. She will be ecstatic with your choice, no matter which bathrobe you pick.
Ready to splurge on the special lady in your life? Don't bother. Just make her think you did. Boca Terry luxury bathrobes are manufactured with affordability in mind.
Because we are hands-on throughout the manufacturing process, our customers have access to a wide selection of luxury bathrobes and spa accessories at factory-direct prices.
Bet on Boca Terry
Not sure which bathrobe is best for her yet? If you'd like to see the entire collection, browse our bathrobes here. Narrow down your favorite and order a special gift for her today! Are you looking for wholesale robes to treat the ladies who enjoy your establishment? Contact us today for wholesale pricing or to place an order.
Share this item with friends