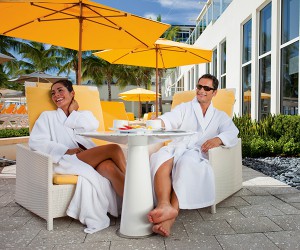 Best Bathrobes for Hotel Guests in Different Climates 
Bathrobes really make for the best companions in all sorts of climates. No matter what location you reside in, there's no such thing as having an overdose of comfort. Whether you're looking for bathrobes to include in your hotel, to hand out as gifts, or perhaps to pamper yourself, there's a different type suitable for numerous weather conditions. 
Cool and Dry Escapes 
You don't have to be in a desert to be in a dryer area. Sometimes, it can just depend on the season. For instance, if you're in San Francisco, your winters will most likely be a little wet, while the summertime will be dry.
If you're one to enjoy a subtle breeze now and then, why not opt for an extra soft chamois bathrobe. The Micro Chamois bathrobe from Boca Terry is not only lightweight to fit the nature of a swift chill; it's also extra soft. Made from 85% polyester and 15% nylon, you can choose a shawl collar or kimono style.
This highly durable product is well equipped to withstand several washes and is fitting for just about any setting. You can wear it while lying in a hammock and reading your favorite book or while getting ready for a fun night out, as you keep snug.
Snowy Retreats 
When the temperature falls below zero and snow is abundant, then you know that you'll have to take cover in more than just a blanket. Even when you're indoors, the effect of a cold winter is almost inescapable.
Having a bathrobe that can keep you warm enough to avoid getting the shivers can make all the difference in pacifying the longer lasting snowy days by making them pleasant. Keep in mind that the bathrobe you choose should be one of a longer length with a hood and it should be made of an extra fuzzy fabric.
You can stay warm away from the fireplace in Boca Terry's Hooded bathrobe. Choose from 100% combed cotton terry or velour to cover up. This special robe features multi-needle stitching around the cuffs, front and pocket for a lush appeal. 
If you have a hotel/resort situated on snowy mountains, your guests will be singing your praises if they find this robe in their rooms. It can be worn right after taking a nice, hot bath or upon getting out of the Jacuzzi—or even a hot spring.
Rainy Zones 
If you're living or staying somewhere where you have to pull out the umbrella several times a year, then going with a cotton terry bathrobe is perhaps the best option. Rainforests may have highly predictable weather conditions in comparison to other regions around the globe, so whether you're visiting one or not, it's always wise to be prepared for the damper days.
Getting rained on can be an adventure or it can cause you to catch a cold if it happens to you during a cold winter. Stay dry in Boca Terry's Microterry bathrobe, which is also available in both kimono and shawl collar variations. The microfiber terry bathrobe is so soft that you'll never want to take it off.
Featuring cozy roll-up cuffs in the shawl collar model, you can adjust the length of the sleeves as well as the belt height, thanks to the double belt loops. Some of our other terry cloth bathrobe models include the Classic Shawl Collar and the Basic Kimono.
Sunny Island Getaways 
Nothing says vacation like a trip to an island characterized by pristine waters and everlasting sunshine. Whether you're working on your tan or you're going for a swim, you'll need the right bathrobe for when you're out of the water. The key is to find an option that'll keep you breezy under the hot sun, while keeping you dry.
Boca Terry's Basic Kimono has all the elements that'll keep you comfy and refreshed throughout your trip. This lightweight robe is not only easy to pack; it also gives you extra room to pack your belongings since it folds easily, too. It accentuates any silhouette and lighter nature of the collar and sleeves allows for flexibility when moving.
The kimono might be classified as an ancient Japanese style, but there's nothing prehistoric about this bathrobe when it comes to its modern appeal. The large front pockets of the Basic Kimono have enough room to hold and guard your personal items, while adding a contemporary aesthetic. Choose a cotton velour or terry variation and you'll be all set to take on the holiday.
Complete Your Look 
To make the most out of the bathrobe you decide to go with, there are a few things you can add that'll ease your mode of relaxation in any setting:
If you're taking a trip to the spa or own one, match your bathrobe(s) with a quality spa wrap and/or headband from Boca Terry. We also have lounge chair covers that come in different fabrics. Moreover, our towel lines can add a convenient touch to complement any bathrobe type. 
Personalize your experience by customizing your bathrobe and spa accessories with a uniquely stitched logo, monogram, or emblem. Boca Terry's talented design team works with different organizations of varying sizes to create distinct pieces that give a personal feel to our products. 
You can also be eco-friendly with our organic bathrobes. Made of 100% certified organic cotton, these bathrobes are made without the use of pesticides, so they're ideal for those whose skin is sensitive to conventionally manufactured cotton. You can be environmentally friendly, while still looking and feeling great.
 A Bathrobe for Every Location 
No matter where you're residing or the climate conditions, Boca Terry has a bathrobe for everyone. Contact us today for more information on our selection, and our skilled team members will be more than happy to help you.
Share this item with friends