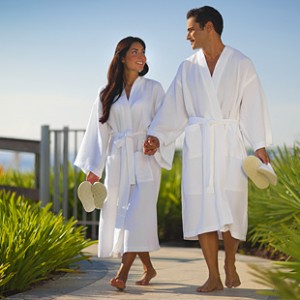 If your spa, health care facility or hotel is located in a warm climate, then you need to get bathrobes for your clients that will keep them nice and cool when they are done bathing or if they are just relaxing. Bathrobes can be made from many different fabrics, but only a few are really good for warm climates. If pleasing your guests is your number one priority, then read on to see which materials are best for your climate.
Cotton
Cotton is a versatile material that can be used for both cool and warm climates. This is achieved by using different thicknesses and weaves. If you are in a warmer climate, then you should get plain cotton that doesn't have a thick weave like a diamond or checkered weave. This means that less cotton is used to make the bathrobe, and this will make it more breathable.
Terry
Terrycloth is similar to cotton in that is can be used for both cool and warm climates. This material is amazing when it comes to absorbing water, but that can also make the material heavier and harder to wear in warm climates. Make sure you get a thinner terrycloth that is lightweight and breathable for your clients.
Silk
Silk is very lightweight, and it doesn't absorb much moisture. This means that it may not be the best for drying off with, but it is great for those that just want to longue around. Silk is also known for being very comfortable, and many people consider it a status marker. If you don't want to get silk due to its price, then you can also get thin satin for a similar lightweight feel.
Microfiber
Microfiber is incredibly thin, and this makes it amazing for any warmer climates. Microfiber is actually thinner than silk or cotton, and it has a texture that many people love. You can also get brushed microfiber that feels similar to suede. While this fiber is very thin, it is also capable of absorbing a reasonable amount of water.
Chenille
This is one of those materials that have been popular for years and years. Many people love the feeling of chenille, and it has only gotten more popular because manufacturers discovered how to make a micro version of chenille. This material is very lightweight, so it should do a great job of keeping your clients cool as they stay at your establishment.
Get Robes Today
Boca Terry, located at www.bocaterry.com, is a supplier of fine robes in many different fabrics. Whether you need robes for a warm climate, cool climate or anything else, Boca Terry can send you exactly what you need. Be sure to visit their website for more information.
If you would prefer calling, then you can reach them directly at 954-312-4410. You can also call them toll-free at 877-421-6001, or you can fax them at 866-530-9743. Also, you can contact them by mailing. If you need bathrobes now, then visit them and order today to get the best robes on the market.
Share this item with friends