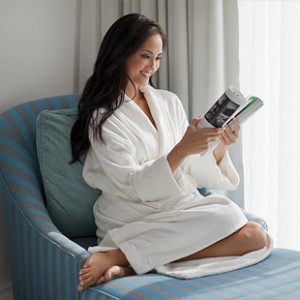 As a woman, there is nothing like getting out of the shower and putting on your bathrobe. You feel refreshed, you feel clean and with your robe on, you feel relaxed and comfortable in your own space. If you are shopping for a present for yourself or you are buying someone you love a present, a bathrobe is the perfect gift. You will get use out of the robe and can also personalize your robe so that everyone knows it is yours and only yours. If you are looking for the best bathrobes for women, here are some tips to sift through the different styles, fabrics, and designs.
Styles to Choose From
From the comfy robe to the more sultry robe, there are a number of different styles to choose from depending on the gift recipient's preference. The Basic Kimono style women's bathrobe is great for a woman who wants to step out of the shower in the winter and feel warm and cozy. If the gift recipient likes to wear classic clothing that is still trendy, the Classic Shawl Collar design may be the perfect choice for a woman. For a little more personality, the hooded robe adds personality and shows off a little more leg. If you are shopping for a robe that is comfortable and sexy at the same time, the satin kimono robe falls just above the knee and leaves a little something to the imagination.
Materials to Choose From
As you might know, bathrobes for women can be made from a variety of different materials. From terry fabric and velour, to fleece and micro chamois, the fabric you choose needs to be comfortable and appropriate for the season. If you are shopping for a bathrobe in the winter season, you will need to look for a fabric that will insulate the wearer so they can stay warm in the coolest weather. If you are shopping for a bathrobe in the summer season, satin and lighter weight fabrics may be more appropriate. Make sure that the bathrobes you choose are made of the highest quality materials that can hold up when they are worn regularly.
Other Features to Look For
Aside from the cut and the materials, there are other features you might want to look for when you are shopping for the best bathrobes for women. If you like to keep your hands in your pockets, look for bathrobes with generous pockets that cover your hands. You should also look for bathrobes with adjustable belt loops than can be adjusted at the height. Hanger loops are also very convenient when you want to keep your robe off of the floor after you have worn it.
The best place to invest in bathrobes for women is through Boca Terry. Boca Terry uses the best materials and designs the best robes in the industry. With more than a dozen different styles to choose from, Boca Terry is the premier choice for bathrobes and other spa accessories. Call the company direct at 954.312.4410 or toll-free at 877.421.6001 x210, or fax the company your order at 866.530.9743 and invest in a bathrobe you will never want to take off.
Share this item with friends