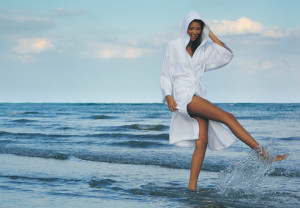 Beach season has kicked off and you know what that means… time to get your bathrobe ready! You might have your beach umbrella and swimsuit on standby, but having an essential cover-up packed will make all the difference in your upcoming trip to the beach.
The key is to choose a quality garment that can allow you to move around freely while having an absorbent nature to handle the beach water and tanning oil. Boca Terry's luxury assortment of bathrobes packs all of these qualities and more. The following are some of our most popular models perfect for the seaside.
Classic Shawl Collar Bathrobe
The great part about wearing a shawl collar robe at the beach is that it can be rolled up or down along with the cuffs. Featuring a classic yet contemporary design, the plush Classic Shawl Collar bathrobe from Boca Terry comes in both terry and velour versions with customizable fabric weights.
You can feel like royalty right by the water. Cotton terry is an extremely absorbent fabric, which makes this robe an excellent alternative for blending flexibility with a smooth touch.
You'll feel like you dried off the water in a lusher towel. If you happen to get a little too much water on the bathrobe, all you have to do is let it air dry under the sun and you'll be ready to throw it back on in no time.
Basic Kimono
Boasting a familiar classic style inspired by the Japanese culture, Boca Terry's Basic Kimono is also available in terry and velour fabrics. The sleek lines and finely stitched fabric perfectly accentuate any silhouette for a pampering fit.
Enjoy your cocktails by the water with this lightweight option that allows for easy maneuverability. The Basic Kimono can also be worn on a daily basis when you just want to lounge around at home or at your hotel.
The 100% combed cotton velour/terry styles display multi-needle stitching for a more elegant touch. The large front pockets make storing your personal belongings easy and help keep them in close reach. You can pack everything from your mobile device to a captivating novel.
Organic Basic Kimono
If you're more inclined towards an eco-friendly lifestyle, Boca Terry also has an organic selection of bathrobes to choose from. The Organic Basic Kimono is made of 100% certified organic cotton, available in cotton terry and velour.
It also features multi-needle stitching for an ornate embellishment. This bathrobe is great for those who have skin sensitivity or allergies since its environmentally friendly nature is void of the use of chemicals in its production.
You'll have the same level of practicality offered in its style sibling with the high level of sleekness flaunted, as well. Recharge your energy after an entertaining game of beach volleyball or some fun kayaking by simply throwing on this modish robe.
Hooded Bathrobe
Who said you have to be at the spa to get the same treatment? Boca Terry's Hooded bathrobe offers the right amount of coverage especially for the moments when you first step out of the water and are welcomed by some wind gusts.
This lavish robe will keep you warm, while offering maximum absorbency. Just pull the large hood over your head and you have an instant hat replacement, with a softer, silkier feel. Multi-needle stitching effortlessly accents the front cuffs and pockets for a more luxe look.
Indulge in the ultimate poster of coziness. This bathrobe features double belt loops to adjust the belt height for accommodating your silhouette. You can throw on the hooded bathrobe after the shower, too, for enhanced comfort.
Microterry Bathrobe
Sophistication is unrivalled with this chic bathrobe available in both kimono and shawl collar versions. The microfiber terry fabric is not only wrinkle-resistant, but it's also extremely soft and fluffy.
You can stay warm and dry on a chillier beach day, as well, and enjoy the fresh air with an easy-to-pack companion that won't take up too much baggage space either. The bathrobe also features a hanger loop to easily store it.
Whether you're heading to the beach from your cruise or straight from your house, the Microterry bathrobe will let you unwind and enjoy your free time. You can even match with your significant other while on a couple's trip with Boca Terry's one-size-fits-all robes.
Nautical Expressions
At Boca Terry, you can customize all of our bathrobes and spa products. You can add a custom monogram for a more personalized look. Our lounge chair covers are perfect for bringing practicality to any beach trip, too. You don't have to fret picking up fallen towels anymore.
If you want to keep from burning your feet on the hot sand, Boca Terry's non-skid open-toe and closed-toe slippers make a great match with any of our bathrobe models. They can also be customized with a unique logo for a one-of-a-kind look.
Take to the Sea with Your Custom Boca Terry Bathrobe
Some bathrobes might look luxurious, but when worn, they don't feel anything close to how they look. You'll never have that issue with Boca Terry because we've been in the bathrobe production industry for over two decades now, which has allowed us to choose the best fabrics and processes.
Since we use the highest quality materials and latest manufacturing processes, you won't have to worry about the bathrobe losing its plushness. Unlike other bathrobes of lower quality, Boca Terry's selection won't show signs of wear and tear after being worn a few times.  They can withstand being washed numerous times while maintaining their composition.
You can take the aura of luxury everywhere with you. From the beach to your home, Boca Terry's large selection is suitable for any environment. You can even gift these stylish bathrobes to guests at your beach event for some real fun under the sun.
For more information about our top luxury bathrobes for a beach retreat, contact Boca Terry today. One of our knowledgeable team members will be more than happy to go over any questions you might have.
Share this item with friends