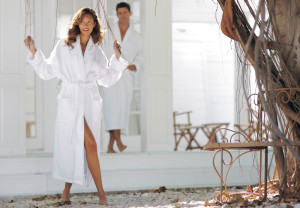 There are facts of life that go without saying. One of these is the fact that bathrobes are the ultimate accessories to have for, well, any season! Fall is the perfect time of the year to immerse yourself or guests in the warm hug of a Boca Terry bathrobe.
Whether you own a hotel or spa, or enjoy wearing a bathrobe at home (before or after your shower), Boca Terry's collection of bathrobes can blend into any location. The fall not only entails going back to school and watching leaves part ways with trees, but it's also a season fit for unwinding in several ways. With a Boca Terry bathrobe on-hand, you can step into the season in style and contentment.
Camp in Peace 
One of the numerous activities we love taking advantage of in the fall is camping under a clear sky full of stars. To enjoy it to the max, Boca Terry's Micro Chamois bathrobe makes for an excellent campsite companion.
This particular bathrobe's fabric is not only lightweight, it is also very durable. Made of 85% polyester and 15% nylon materials, the Micro Chamois bathrobe can handle rough and edgy surfaces.
Whether you're laying out on a camping chair, sitting on a log, or you just need to make a run to use the restroom, having this bathrobe packed up will help you keep away the effects of a chilly night and maintain your privacy. It's easy to pack and transport, too, so you can save space in your camping bags for other gear and tools.
Sit by a Bonfire
Stay warm by the fire wearing Boca Terry's Hooded bathrobe. Offering smooth flexibility, you can make s'mores and enjoy a hot cup of cocoa, as cooler weather becomes more pleasant thanks to this bathrobe's 100% combed cotton makeup, available in terry and velour fabric.
If you feel a wind chill coming, just take cover under the extra large hood and adjust the belt height to fit you more comfortably as you sit or stand. Boca Terry's Hooded bathrobe boasts multi-needle stitching on the front as well as the cuffs and pockets, to both look and feel amazing.
Hang Around in a Hammock 
You may like to take a hammock with you while camping or have one ready for you to lie in at home, out on your patio. To allow you to indulge in the ultimate relaxation state, Boca Terry's Classic Shawl Collar bathrobe is composed of 100% combed cotton.
You can read a book or just lay still thanks to this bathrobe's plush and lightweight nature. Also available in terry and velour variations, the bathrobe's shawl collar can be folded open or closed to offer the maximum amount of coverage for warmth on those cooler fall days/nights.
Stay in and Watch Football
For sports fans everywhere, fall is known for bringing forth the kickoff of the football season. So as you're getting the chips and salsa ready along with some beverages, stay comfortable in Boca Terry's Checkered bathrobe.
Get your guests in on the bathrobe trend, too, and have an excuse to watch the games from home. You wouldn't want to step out on the arena stands in your bathrobe, would you? Boca Terry's Checkered bathrobe can let you feel snug by the TV as you give a shout-out to your favorite team (or competitor).  Navy or white piping is also available for shawl collar versions.
Rent a Cabin
Staying in the mountains during the fall is ideal courtesy of the season's crisp weather. Whether you're the owner of a resort located among a range of mountains, or you're planning on going off on a weekend getaway, a cabin with bathrobes can make any occasion more memorable.
Surprise your visitors or significant other with a customized Boca Terry bathrobe. You might even be staying at a Bed and Breakfast. Enjoy the morning, afternoon and night in Boca Terry's Mini Stripe bathrobe, featuring cord edge piping for a more luxe appeal.
If your cabin happens to be by a lake, instead, you can go for a relaxing swim and dry off with a custom Boca Terry Organic Classic Shawl Collar bathrobe. Match it with closed toe slippers from Boca Terry to keep off painful splinters. The PVC sole is non-skid for extra protection against taking a slip.
Prep for the Holiday Season
Fall is filled with holidays. Whether you're preparing to go gift shopping or hosting a Thanksgiving dinner, you need a bathrobe to take the stress off getting everything done on time. Start cooking in Boca Terry's Microfiber with Plush Lining bathrobe. Lined with 100% polyester Microterry lining, this bathrobe comes in different styles.
You might even decide to do your shopping on the web from home. Save your time and energy trying to take on the crowds at the mall by just clicking a button straight from home, while sitting back in your bathrobe.
Not sure what to shop for? You can order Boca Terry Microfiber bathrobe for your family and friends and add some embroidery to create a unique gift. So, take the edge off the gift shopping madness during the holidays, and make your way around the kitchen with a beyond cozy Boca Terry bathrobe.
Fall into Luxury
Boca Terry's high-quality bathrobes are made to enwrap you in a dreamy assortment of design and innovation. Original embroidery and custom designs are just some of our specialties. Contact us today to help you start enjoying the fall season with our assortment of chic bathrobes.
Share this item with friends