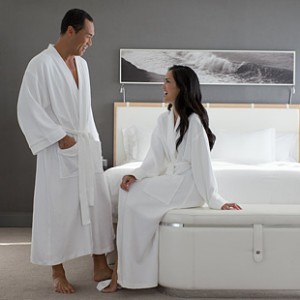 So Many Men
Men are often overlooked by advertisers when it comes to some of the finer things in life. Manicures and pedicures once the realm of fashion conscious women have finally entered into the male arena. The same goes for lotions and creams, couture and hairstyles. That doesn't mean however that men haven't always wanted some of the more refined and civilized necessities of a pampered life. Men are just more apt now than ever before to express what they truly want.
Upon entering a man's bathroom, you will find many things: shaving tools, masculine smelling soaps, a toothbrush and toothpaste but look a little closer and you will usually find a touch of refinement. Maybe a man has a blow dryer or pair of tweezers (items usually thought of as belonging in the realm of his wife) and oftentimes folded nicely on the counter is a luxury bathrobe perfect for lounging around the house with his best girl.
For a man with comfort as his aim, most times he opts for a kimono robe with clean lines and classic styling. After a long bath or shower, this is surely the way to go. Yet, not every man has a bathrobe and not everyman knows that he needs one, but the sure sign of a gentleman with classic style and grace demands that he owns at least one. Think James Bond.
Because You Love Him
Because men don't usually know that a comfortable luxury bathrobe is a necessity, it is important for him to receive an introduction. This introduction is usually a gift from a fashion savvy wife or girl friend. Luxury bathrobes make some of the finest gifts for birthdays, wedding anniversaries, and special occasions. The man in any woman's life will be impressed by the thought and consideration that went into the purchase of the ultimate necessity in lounging. A bathrobe speaks to a man's inner need for comfort all the while boosting his self esteem like a pair of nice fitting jeans or slacks. When a man walks out of the bathroom in his classic robe, he will feel like a million dollars. Little will he know that his wife or girlfriend was able to purchase the robe at a very reasonable price.
Ladies, personalization is always the way to go when it comes to giving a bathrobe as a gift to your husband or boyfriend. Maybe his name monogrammed in a beautiful cursive is the ticket to his heart. Maybe his favorite shade of blue is another. As your significant other unwraps his gift on his birthday and experiences the softness and refined comfort of his new luxury bathrobe, he will be forever yours.
For the fashion conscious and comfort driven men and women who are looking for the perfect gift for themselves or their loved ones, there is only one place that can provide all the options necessary in customizing and ordering amazing bathrobes. That place is BocaTerry.com, visit them today to customize a bathrobe for yourself or the man in your life.
Share this item with friends