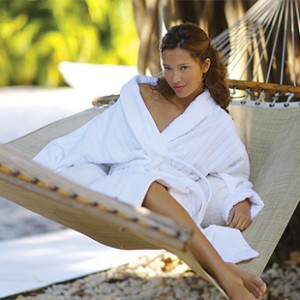 When a company can boast 50 years of combined staff experience in the manufacturing and textile industries, display a myriad of top quality products for the wholesale market, and sell to some of the most notable luxury resorts, hotels, and cruise lines in the world, you know they're doing something right.
At Boca Terry, our history speaks volumes. As one of the most sought after suppliers of quality wholesale robes, we not only pride ourselves on our impeccable line, but also the level of customer service that we provide.
Because we are completely responsible for every wholesale item we produce, from design to manufacture, our robes are finessed for their durability and style from the moment we choose the threads we will use in our weaving process. Our factories in China, India, Pakistan, Turkey, and Columbia are set up for direct access, whereby we have full control of every aspect of production and no middle man to interfere with our highly competitive prices.
Because we love what we do and are dedicated to bringing you the very best fabrics and designs, we are completely hands on when it comes to selecting, researching, and testing our products. This means that every one of our items meets the highest industry standard. We understand that our merchandise will likely be washed hundreds of times, which is why we choose exquisite fabrics that are known for their durability and why we deem our fabrication process as the utmost in importance so that every stitch is made to last.
Ordering robes from Boca Terry gives you access to our design experts who can advise you how to enhance your brand via your selections. We offer creative consulting services to all of our customers, whether it is to help discover a uniquely embroidered logo or emblem, or to design a custom robe for special occasions. We are now teaming up with established brands and celebrities to create unique designs that reflect their individuality. One example is our line of luxury black and gold robes for Snoop Dogg's Snoopermarket.
Whether it is our terry cloth, satin, or microfiber line of robes for men and women, you can find each of our models online and ready for quick and reliable shipment. Any one of our robes can be customized, with embroidery originating from our corporate headquarters in South Florida. Once you have approved the initial prototypes for your order, they are sent to our manufacturing premises for product sampling and ultimate shipment to your door.
With so many years in the business, we know the value of our products. The consistent orders that come in from our loyal customers assure us that we are doing it right as they choose from our newest designs or maintain the classic selections they already have as their needs increase.
For more information on how we can help you select a line of quality wholesale robes, please contact us through our online form or call us at 954.312.4400.
Share this item with friends