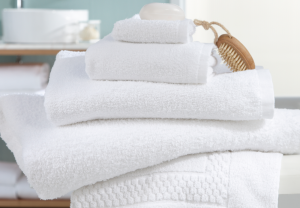 Best Wholesale Luxury Towels for Your Hotel 
A hotel can never have too many luxe towels on hand. The key is to make sure you order a large range of high quality towels that can remain looking and feeling luxurious for a long period of time.
There are many elements that go into manufacturing the best quality towels to distribute to small and large hotels. Whichever category your hotel falls under, Boca Terry's selection can cater to your standards.
A Delicate Design
There are many things that get one first impression, and towels are one of them. That's why the element of design is at the core of how a towel is received—your guests can love it or prefer to do without it, depending on both the feel and appeal.
To assure that both attributes are blended with ease, you should start by looking at the towels' fabric and stitching. At Boca Terry, both of our collections have a unique and ultra chic design that's sure to fit any room theme or hotel ambience.
Our Resort Collection consists of an overall check pattern with a dobby border. Made of 100% combed cotton terry, this line is just as soothing to the touch as it is to the eyes.
Our Sunny Lane Collection is also made of 100% combed cotton terry, but instead of flaunting an overall checkered arrangement and border, it features a gorgeous terry finish for a simple, yet sophisticated guise. You can select from ecru and white variations.
The Right Size and Cut 
Just like you'd look at the dimensions and cut of a precious stone, you should do the same when placing an order of luxury towels for your hotel. Having numerous sizes to choose from is a must.
When talking about luxury, there' s pretty much no such thing as having an excess of comfort and practicality. That's why you should have the following sizes available in your guests' rooms:
Wash cloth
Hand towel
Bath towel
Bath mat
Bath sheet
If your visitors walk into their restroom only to find just two towel sizes, they will certainly be unpleased; especially if they're prepared to stay at a luxury hotel. At Boca Terry, you can take your pick and choose as many of these sizes as you need. In addition to selecting the size and style of the towels, you can also choose the weight.
Easily Foldable 
Bathrobes aren't just the only products that should be capable of being stored with ease; you should be able to stack your towels easily, too. Boca Terry's lavish towel lines are seamlessly manufactured with strongly threaded cotton fibers, meant to equip towels with the capability to withstand a number of launderings.
With that comes the ability to maintain a soft composition, rather than dealing with a fabric becoming stiffer after multiple washes. Once the towels remain smooth, they can be folded and stored more effortlessly with even ends.
Wide Usage
Both our Sunny Lane and Resort collections can be used in guest rooms or in the hotel spa, if you have one. You'll always need towels at the spa, whether it's for your guests to dry off in after a trip to the sauna or Jacuzzi, or to use after a soothing bath to smooth out the massage oils.
No one said you could only use bath towels in the bathroom. If you're not using Boca Terry's Lounge Chair Covers, then you can choose the right bath towel size for guests to wear at the pool or beach, if your hotel is located near the water.
Moreover, you might want to surprise your guests with a kind gesture, like having hot washcloths and a warm/cool beverage ready for them upon checking in your hotel. Or, you can offer the warm cloths at the spa before or after visitors finish their treatments.
Spares in Bulk
It's necessary to have extra towels in storage, since your guests might require more towels of a particular size at any given time. Seeing as how you can't just rely on having housekeeping finish washing and drying a load on time—there might even be a mishap that can affect the expediency of washing a load—having more towels available is critical.
You can never predict how many towels a single guest will need during their stay, so it's always better to be prepared. Boca Terry can accommodate you with the number of towels you need, regardless of the size or collection.
Customizable Features 
You want your guests their remember their stay at your hotel, right? Customizing your towels is an excellent way to give them a positive and memorable experience since this seemingly small detail goes a long way for exuding an opulent sensation.
You can add a monogram or emblem of your hotel name or logo on your towels for a subtle, yet impressionable touch. If you'd like to choose a specific design and need advice on which route to go on, the expert designers at Boca Terry would be more than happy to help you get what you're looking for.
Don't Forget the Accessories
Luxury isn't confined to upping the accessories in the décor elements of your guest rooms. You should also consider including items that can fittingly complement your towel choices.
Boca Terry's slippers and spa accessories can be used with the towels you choose. Opt for a lush spa wrap, handy headband and/or a waffle-textured blanket to have your guests feeling like royalty from head to toe.
Boca Terry's Type of Lavishness
At Boca Terry, we pride ourselves in delivering bathrobes, towels, and spa products of the highest quality. Our selection of luxury towels can fit into the theme of practically any hotel and ultimately enhance its ambience.
For more information on which towel collection can best fit your hotel, or to inquire about any of our products, feel free to contact Boca Terry today. We would be more than happy to speak to you about any questions you might have.
Share this item with friends