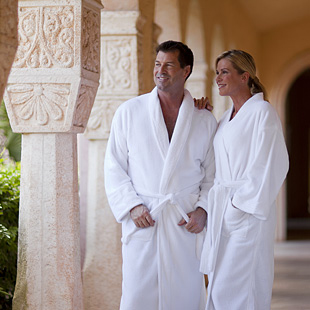 With top suppliers and distributors from all over world coming together to enjoy ASI Orlando 2013, Boca Terry will be enjoying a presence for three days of inspiration. Representing our high-end luxury robes and towels, we're advising our distributors to get ready to boost their sales with all the new products we've created for the new year.
Celebrating in Style
This year the Orlando event promises to be an exceptional one, with so many exhibitors ready to exchange ideas while meeting with loyal and new clients. With the hospitality industry enjoying an upward trend and hotels recovering after the downturn of the past years, we're going to be celebrating this new selling season in style.
Our Dedication to Exquisite Quality and Design
We know that a good convention helps to increase sales by providing exceptional marketing experts, manufacturers, distributors, and buyers, with opportunities to educate and inform each other about their services and materials. In the spirit of the fresh start that a new year brings, Boca Terry will be offering products that are in keeping with our dedication to high-quality and exquisitely designed bathrobes and towels.
Spotting Trends
One of the hallmarks of our success is our ability to spot trends before they become widespread in the marketplace. Always anticipating what is coming, we have been supplying Green products for some time, and now are watching as the hospitality industry is recognizing the importance of environmentally responsible practices. With greater Green initiatives at the fore, we are noting that hotel, spa, and other industry managers and buyers are contributing to the movement by buying sustainable items that create a healthier environment, both in and out of doors. According to the World Tourism Organization, eco-tourism is the fastest growing market in the hospitality industry to date.
Contributing Towards Comfort and Wellness
Another trend that is taking on equal power is in the hospital and healthcare industry. From our observations gleaned from the EXCHANGE 2012 AHE conference in Phoenix, Arizona, greater emphasis is being put on providing patients with greater comfort. Hospital and healthcare facilities are looking for ways to upgrade their experience by offering room service dining, an open room plan that allows for families to visit comfortably, and other elements that help to promote patient health. In this regard, Boca Terry makes a strong statement to buyers, as our robes and towels provide the utmost in cozy comfort, while also offering exceptional style, which is our way of contributing to the path towards wellness.
Luxury at Low Wholesale Prices
At Boca Terry, we offer low competitive pricing that leaves a margin for you to make a profit. We are also a branded company, and our products are the most luxurious you can find, but at a wholesale price that will never break the bank.
Upselling to Enhance the Experience
A trend that is going along with the new climate of customer satisfaction is "upselling."  We are finding that this is a tremendous way to help your bottom line. By providing your guests with a better experience, they are more willing to spend more money for an experience that takes them out of the quotidian and puts them in the lap of luxury. When you upgrade your purchases, you automatically expose your clients to higher quality. When guests feel pampered and know that your choices have been made for the deliberate enhancement of their experience, you increase loyalty and trust. When your locale is known for taste, comfort, and exclusivity, you attract more customers, as most people are willing to spend a bit more to feel like they are the VIPs they deserve to be.
Masters of Emotional Gratification
As everyone in the hospitality industry knows that appealing to the emotions of your guests is one of the most potent way to attract repeat customers, as well as providing great word-of-mouth. At Boca Terry, we are masters of emotional gratification, supplying our customers with exceptionally crafted cotton, terry, satin, microtec, microterry, and more. Our unrelenting attention to how our products are made, and to using the best materials to do so, have brought us some of the most exclusive clients worldwide.
Exceptional Durability
Perhaps the most essential element that sets us apart from the crowd is how durable all of our products are, maintaining their integrity through the countless wash and dry processes inherent in the hospitality business. The fact that our robes and towels don't wear out means that you are saving quantities of money in re-orders. We find that when our customers come back to us for more, it is usually because they have increased their needs or are clamoring for new styles, or a more customized look.
Special Orders
Speaking of customization, at Boca Terry we pride ourselves on fulfilling special orders, whether they are as simple as an order in plus sizes or more complex, such as a particular embroidered design or incorporating your logo or emblem on robes and towels. Additionally, we can create any kind of design in any fabric and color for events such as wedding parties, honeymoon celebrations, birthdays, and more.
The Ultimate in Luxury
At Boca Terry, we know what people want when it comes to comfort and functionality. Each and every robe and towel we create is designed with the ultimate in luxury in mind. With distribution throughout the United States, Europe, and the Far East, we are able to send out orders to any corner of the globe. Our mission is to provide the highest quality at the lowest wholesale prices, advancing materials, styles, and designs to conform with our state-of-the-art standards.
Contact Us
For more information on Boca Terry products, please contact us by calling (877) 421-6001. We look forward to seeing you at ASI Orlando. You can visit us at our booth # 1415.
Share this item with friends