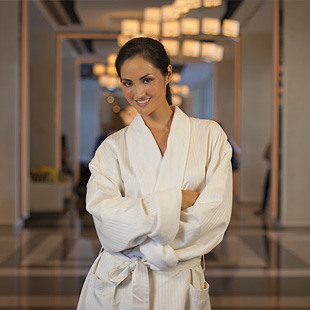 It is stating the obvious that products are our business and getting them out to loyal and potential customers is the name of the game, especially at the start of a new season. Most of us have an array of innovative new designs to show, particularly when a new year comes around, and there is no better way to do this than by offering incentives that attract a greater buzz around your product line.
Getting Together With Industry Pros
As one of the industry's largest events, Boca Terry is excited about attending PPAI Expo 2013 to be inspired by the educational and promotional opportunities that ignite our imagination every year. The Promotional Products Association International is the only international not-for-profit trade association and it offers a brilliant and in-depth way to get together with other industry pros, as well as to benefit from their advice, input, and technical and legislative support.
Promoting Products, Sharing Ideas
PPAI has over 8,000 global members, and we are proud to be a part of this number. Representing a multi-billion dollar industry, the opportunity to promote our products and to share ideas with other vendors is invaluable. It is also a goldmine of new products that can often help to enhance a company's already interesting product line, allowing buyers to find complimentary materials to distribute or buy in order to further activate customer interest.
Our Many Years in the Hospitality Industry
At Boca Terry, we are excited to represent our high-end bathrobe and towel line, designed for luxury hotels, spas, bed and breakfasts, cruise lines, and more. Our exclusive clientele already knows that there is no better inventory than one where every piece is created with the utmost attention to detail and care. Our exquisite roster of robes and towels is a testimony to our many years in the hospitality industry, gathering information, learning new techniques, seeking the highest quality materials and craftspeople, and providing flawless customer service.
Adding Incentives
Boca Terry robes and products are a great incentive to offer your clients. Our robes are available in terry and velour fabrics and our sizes range from one size fits all to XXL and 4XL options. They offer a flattering fit, generous pockets and a hanger loop for easy drying and storage.
What Works Best in the Industry
One of the things we love at Boca Terry is the PPAI Hall of Fame, where creativity, ingenuity, and customer service are honored and top leaders in the industry are recognized with awards. There are many such awards at the convention, all of which draw attention to what works best in this competitive industry of ours.
Becoming Inspired by Specialty Products
Visiting the Expo's product pavilions to see what is on offer is an excellent way to become inspired by specialty product ideas to add to your inventory. Seeing what is new and getting a better idea of the latest trends helps you plan your marketing strategies for the year.
Staying Ahead of the Trends
At Boca Terry, we find that we are always ahead of the trends. With our consistent emphasis on providing Green options for our robes and towels, we maintain a harmony with the latest in eco-tourism, as well as the population's growing concern for using sustainable materials and keeping the footprint as minimal as possible. Additionally, we pride ourselves on staying one step ahead of the industry's needs, by supplying, for example, comfortable and functional robes for hospitals and healthcare facilities where more attention is now being paid to patients' comfort.
Exposure to Promotional Opportunities
The beauty of the PPAI Expo is the vast scope it covers when it comes to exposing industry professionals to every aspect of promotional opportunities. Being able to quickly grasp what are the best new products, especially by visiting the Made in the USA and Express Shipping Products pavilions, we can stay abreast of those elements that are consistently taking us into a more interesting future.
Building Relationships
With so many opportunities to network and share, we feel that the 2013 Promotional Products Association International Expo is a must for building relationships. Whether it is at the Awards Presentation and Reception, the Chairman's Leadership Dinner, or the Power of Two Party, being able to interact in a social setting where we can enjoy the company of other industry veterans and peers is the most powerful way to advance in the hospitality business.
To Inspire and Be Inspired
Statistics are showing that we are now in an upward trend, with hotels recovering after several difficult years. Boca Terry looks forward to educating and informing customers about our innovative methods of maintaining exceptional durability, whereby our products last through the countless washing and drying cycles inherent in hospitality services. We are also excited to display our innovative designs, our impeccable fabrics, and all the detail work that we incorporate into every single one of the products we supply to our loyal clients. We also are ready to be inspired by the ideas and efforts of others, sharing perceptions, methods, and a productive exchange.
Customization is Key
One of the elements that have set us apart from our competitors is our ability to customize our robes and towels with fine embroidery, logos, and emblems. Our ability to create any type of design that matches our customers' needs is one of the major ways in which we continue to boost sales. We find that providing samples of our customizing capability is an ideal way to show customers the diversity and perfection they can expect from a Boca Terry bathrobe or towel.
Contact Us
For more information on our select luxury inventory, please contact us by calling 877.421.6001.  We hope to see you at PPAI Expo 2013. You can visit us at booth # 6067 and know that we await you with open arms and some exciting new wares.
Share this item with friends