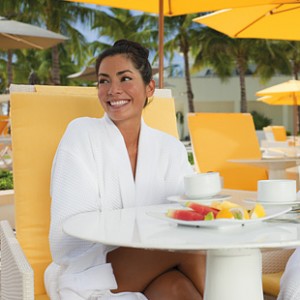 Lightweight and created to keep you warm when you need it and cool when the weather heats up, the Boca Terry waffle weave robe is the highest expression of comfort when it comes to satisfying your guests. Made with small panels that wick away moisture and hold in emollients, ordering the waffle weave model is one of the best ways to satisfy a myriad of needs.
Satisfying Even the Most Particular of Guests
Catering to the hospitality industry since 1996, we have over 50 years of combined experience and discernment when it comes to knowing how to satisfy even the most particular of guests. When it comes to robes, there isn't anyone who can deny the appeal of a luxurious wrap around, and when the feel is right, everything else seems to fall into place.
Keeping Your Reputation High
Because you are an establishment that attends to every detail, selecting the right robes is one of the most critical elements in keeping your reputation high. Whether you are a hotel, spa, casino, cruise line, ski resort, or hospital, the comfort of your clientele is paramount to providing them with the care they need and deserve. They have chosen you for a reason, and rising to the occasion on every front is what is expected.
Caressing the Body at Every Moment
Our waffle weave robes are made from the highest quality fibers sewn together with highly calculated stitching to make a product that is both durable and stylish. With panels that fit together like mini gloves, the body feels like it is being caressed at every moment. Our exceptional design provides a beautiful drape that embraces the body perfectly. Made in a one-size-fits-all for both men and women, you can also order plus sizes to accommodate those who require a fuller shape.
Defining Perfection
Boca Terry robes are known for their exceptional craftsmanship, as we train each member of our manufacturing team to pay strict attention to the details of making a robe that defines perfection. Our long history in the textile industry has provided us with the best suppliers to ensure that all of our materials are the best. We know that our products must undergo many launderings during their lifetime, and we have made sure that they can do so without losing their original luster. Here are examples of what you can find in our catalogue when it comes to the various styles of waffle weave robes we offer:
The Organic Lightweight Waffle
As most establishments today are aware of how important it is to supply their guests with hypoallergenic products, we have created an exquisite 100% certified organic cotton waffle weave robe to satisfy this need. These robes are made from cotton plants raised without pesticides, herbicides, fungicides, or any other chemical to ensure that the fibers are completely natural. Using no genetically modified seeds, our organic waffle weave robes come with the guarantee that sensitive guests can wear this robe without worry.
Adhering to eco-friendly standards, this is just one example of our line of Green products that is becoming more popular with many of our customers.  Made with the large diamond or a seashell design that is typical of all our waffle weave robes, this robe comes with a shawl collar and cuffed sleeves that allow for the ultimate in coziness. With double belt loops that allow for waist height adjustment, generous pockets, and a loop on the back for easy hanging when not in use, we cover all the bases when it comes to a bathrobe that's perfect for any situation.
The Kimono Waffle
Created with a Japanese aesthetic in mind, the Kimono Waffle bathrobe makes every wearer look slim and tall. This style comes in 100% cotton or you can choose a 67% cotton and 33% polyester blend. Created with large diamonds, seashells, or a multi-waffle design, this robe also features double belt loops, ample pockets, and a loop on the back.
The Knit Waffle
Order our sumptuous knit waffle robe with either a shawl collar or in Kimono style. Made of 45% modal fibers, 45% cotton, and 10% polyester, this robe is a lush example of what it means to provide your guests with the ultimate in loungewear for any season.
Retail Ordering
For our retail customers, we offer an online opportunity to order our robes. Many of you have visited establishments where you have worn a Boca Terry robe, and now you have the opportunity to own one of your own. Additionally, our robes make exceptional gifts for any occasion. Add our custom embroidery to commemorate an event, and you will have a creation that takes on meaning that will go a long way with its recipient.
Creating Brand Awareness
And speaking of customization, if you are buying for your hospitality establishment and wish to create greater brand awareness, be sure to discuss your needs with our design experts. They can help you get your design, logo, or monogram embroidered and create a truly unique bathrobe that will establish each guest as an exclusive member of your "club."
For Your In-House or Online Boutique
If you offer an in-house or online boutique, visitors will have the opportunity to go home with something unique that will forever remind them of the wonderful experience they had staying with you. And when they buy extras for family and friends, you can be sure this form of advertising will go far when they are ready to decide where to stay for their next vacation.
A Great Promotional Item
Promotional companies are also choosing our Boca Terry waffle weave robes. When it comes to all-around comfort and style, they are just the right option when it comes to an alluring and impressive give-away.
Contact Us Today
For more information on how to give your public the optimum in comfort, contact us today. Our staff is ready and waiting to help you select just the right model!
Share this item with friends