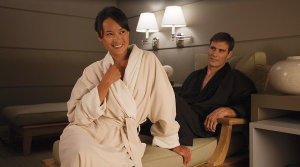 Boca Terry is known for our vast collection of high quality robes to suit your company's  needs for every season, but our winter robes collections are some of our favorite. Want to  know Boca Terry's best robes for the cold weather? The following are our favorite frost-  fighting favorites:
1. Microfiber
This timelessly elegant bathrobe is a great choice for staying warm this winter. The  absorbent lining makes your microfiber robe ideal for stepping into right out of the bath or  shower (and into cozy relaxation). Available in a full palette of colors, this robe will elevate your establishment while making sure your guests don't get left out in the cold.
2. Microfiber with Plush Lining
This soft, luxurious bathrobe is lined with 100% polyester micro terry. This casual, yet sophisticated bathrobe is an excellent choice for the chilly winter months. The plush poly lining is sure to keep out any cold drafts! Available in white or ecru, this beautiful robe is just right for you.
3. Fleece
Introduced in the 1970s fleece was popularized in the 1990's upon manufacturing improvements. Since that time, fleece has remained a warming wintertime favorite. Now, nearly everyone's favorite way to fend off freezing temperatures, fleece makes for an excellent robe material.
4. Hooded Bathrobe
Perfect for drying not only one's body, but also their hair, our Hooded Bathrobe will be sure to keep you and your guests warm all winter! Made from absorbent 100% combed cotton terry or velour, your guests will be happy you provided the perfect bathrobe to keep out the cold.
5. Satin Stripe Bathrobe
A beautiful, satin-like polyester shell is lined with an absorbent cotton and poly French terry knit lining. Perfect for drying off, or lounging, this soft robe is a great choice to fend off the cold air.
6. Knit Waffle
Our Knit Waffle robe is a special choice when it comes to cold weather — this robe is almost like a quilt with sleeves! An excellent choice for cold weather, this 48" (kimono) or 52" (shawl) robe is long and luxurious. Plus, it is made from modal fibers, which are three times softer than cotton, making this robe extremely cozy.
7. Micro Chamois Bathrobe
Boca Terry's Micro Chamois Bathrobe is ultra soft. Although chamois is lightweight, it is still a warm fabric, and it is nearly as soft as flannel. An extremely durable product, it comes available in both the classic Kimono and Shawl Styles.
Customize Your Winter Wear
Not only do we offer these outstanding products, but we also offer the option to customize the items you choose. Whether you wish to see your favorite logo and motto embroidered on a robe, or you hope to customize an eye-catching pattern, customization is highly possible with Boca Terry.
For each custom or embroidered product, all designs originate in our corporate headquarters in South Florida. After our wholesale bathrobe or spa product client approves the original prototypes, they are sent overseas for product sampling. This means that we walk our custom design clients through every step of the way, ensuring that the final product is exactly what they envisioned.
Why Choose Boca Terry?
Boca Terry takes full ownership of the design and manufacturing of each of its wholesale bathrobe and spa accessory products. Our fabrics are weaved at our own factories, totally vertical from yarn purchase through weaving. This enables us to control (and elevate) the quality of our products, as well as offering us the ability to save on production costs. Lower production costs means that our customers benefit through more affordable prices!
With over 50 years' worth of combined manufacturing experience, we have spent that time perfecting our manufacturing and distribution processes to provide businesses with the highest quality wholesale bathrobes available on the market.
We Care About Our Customers
If you are interested in Boca Terry, but need a little bit of direction about which products will work for your brand, or need help with customizations, we are here to offer assistance. Our staff advises clients on product lines and design solutions that will help to enhance their brand.
We Care About Our Customers' Customers
Our mission is to ensure that your guests and clients recognize your superiority through the unmatchable quality of the amenities that your establishment provides.
Boca Terry: Keeping You Warm all Winter
After last year's relentless winter, your guests are getting ready to face another cold season. With winter quickly approaching, it is time to start thinking about creative ways to keep your guests warm and happy! Now is your chance to ensure your guests don't face another unbearable stay away from home.
Boca Terry offers products to keep your guests warm all winter. If you are interested in learning more about wholesale pricing, or to order wholesale, contact us today!
Share this item with friends